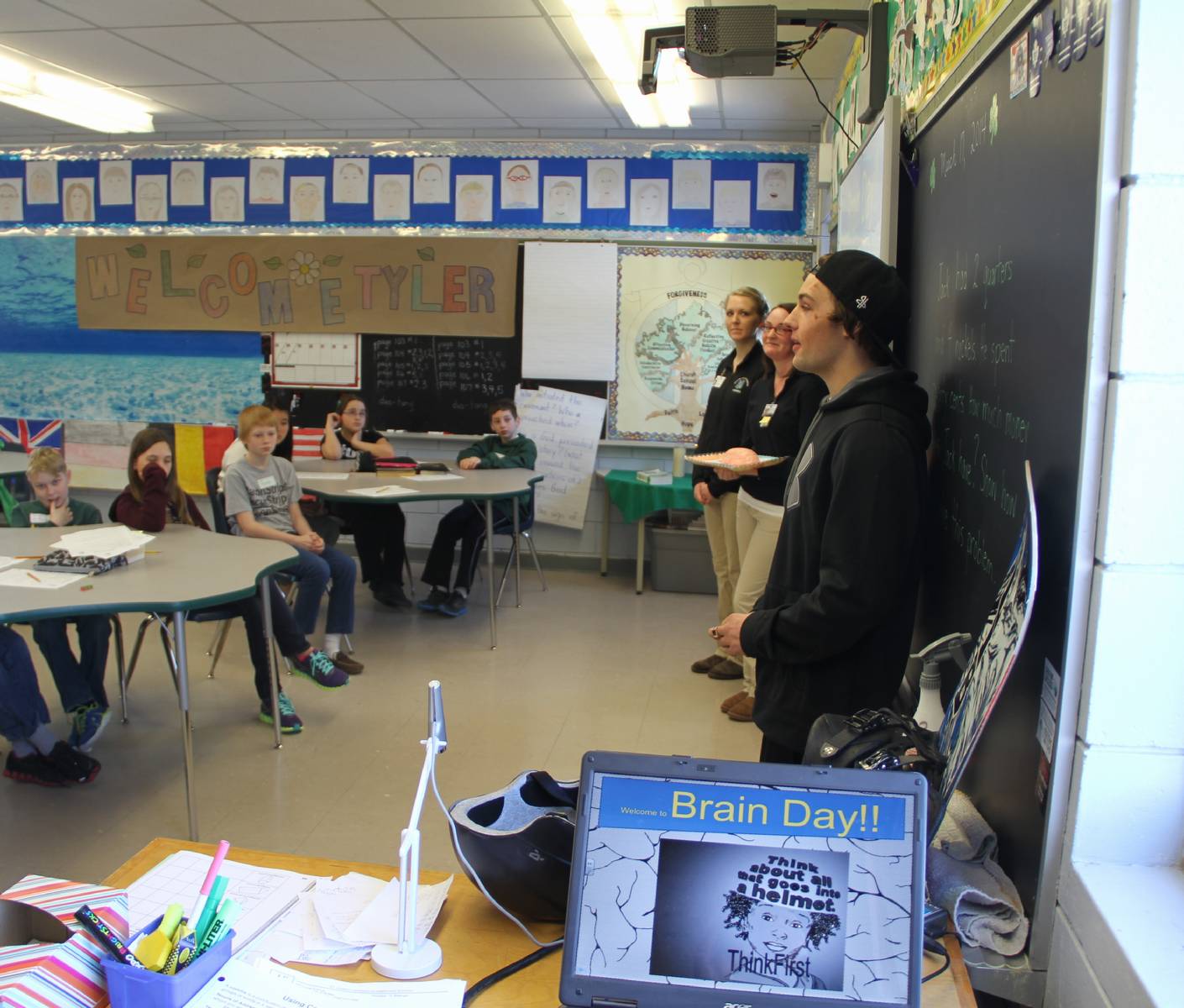 Tyler Nicholson speaks to students at St. Hubert's Elementary school. Photo by Chris Dawson.
North Bay's slopestyle skier Tyler Nicholson was at St. Hubert's Elementary School to talk about his sport and the message of safety.
The 18-year-old spoke about his career and safety essentials like wearing helmets and mouth guards when you are on the ski hill.
Nicholson did an autograph signing and engaged with the students for nearly 2 hours on Monday morning.
The event was organized by Parachute, a program that teaches kids how to keep their brains safe when participating in sporting events and activiities.
Caedan Carriere, a grade 5 student and a fellow snow boarder, was thrilled to meet his snowboarding idol and get his autograph.
"It was cool that he came in and he gave a nice speech to all of us," he said.
"It's really cool to see all these kids here who are now getting influenced to wear helmets and mouth guards, it's really good to see," said Nicholson in a media scrum after his busy morning of talking and signing autographs.
Ironically, the 2013 World Junior Championships Slopestyle Gold Medalist was at the event only a day before sustaining a minor head injury during a Big Air competition at Blue Mountain on the weekend.
"I don't know quite what happened," said Nicholson who had scrapes and some swelling over his left eye due to the fall.
"I tried to do a front side double cork 10-80 and it was all good, everyone up top thought I stomped it, but I don't know even what happened, all I know is I woke up in an ambulance and I had to go to hospital," he added, stating that he was told his knee came up and hit his jaw which knocked him unconscious.
"It was my first concussion and hopefully my last," he said.
Nicholson learned the hard way as he felt that the injury would have been prevented had he been wearing a standard mouth guard.
Nicholson hopes an event like today will help students to avoid accidents on the hill.
"You only get one brain in life so use it and look after it," stated Nicholson in a Parachute press release.
"Parachute's Brain Day is a great way to learn more about it. By learning more about your brain, you will learn why it is actually cool to wear a helmet," he added in his message to students.
Parachute's full day Brain Program will be taught to students at St. Hubert's School on March 18th by volunteers in the 3rd year of the Nipisssing University Community Health Nursing Program.