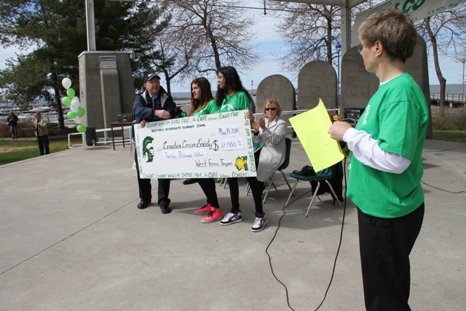 West Ferris Senior Secondary came together as one on Wednesday as they made the journey from their high school to the Waterfront.
The Trojan Parade for Cancer has raised more than $200,000 to fight the disease in the first 20 years of the well known event which is highlighted by the Canadian Cancer Society as one of the special events annually in the province.
On Wednesday, the school presented a cheque for $12,000.00 to Canadian Cancer Society Rep Andrew Lane.
On top of that, another $1,000.00 was raised to support a Camp in Muskoka, Camp Oochigeas, which houses Cancer survivors from Toronto's Hospital for Sick Children.
"We appreciate the efforts of the students and alumni," said West Ferris Principal Sean Ruddy, who has been involved in the event for the past 7 years.
Cancer Hits Home
Organizer Nat Brunette put the disease into perspective when she asked students to stand if they have been affected in some way by the disease, or if someone they know or a family member has had cancer.
Everybody was standing.
"It started with just one girl in grade 10 and a few friends and its just grown every year," said Brunette about the growth of the Parade.
West Ferris student Leda North was one of those students standing. Her grandmother has battled the disease 3 times. She was one of the individual fundrasing leaders as she raised $370.00 on her own.
"It's very important to me," said North.
"The family history has made us sensitive to the disease so I feel the need to participate."
The Near North District School Board is thrilled to see a school come together like this.
"It just shows the values of our schools students bring to the table and that they care about the community and human beings," said Near North District School Board Chair David Thompson.
A pair of West Ferris Female Students also had their hair cut at the Waterfront Bandshell to donate to the Locks for Love Program.
The students ran all sorts of different fundraisers including a Zumbathon and selling Dafodils.
Organizers believe the $13,000.00 raised is a great way to start the third decade of this very special event.