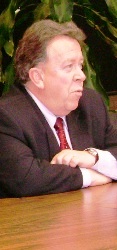 Michael Gravelle, Minister of Northern Development and Mines released the following statement on the transformation of the ONTC Friday:
The transformation of the ONTC is, expectedly, of considerable interest to northerners. That is why, as Minister of Northern Development and Mines, I continue to work alongside a dedicated group of Northerners that include members of my ONTC advisory committee, ONTC management, and union representatives to transform the ONTC. We share a goal of sustainable telecommunication and transportation services and we certainly share the goal of a prosperous North.
I would, however, like to take this opportunity to clarify a few points.
Earlier this week, Ontario's Auditor General published a special report on the ONTC. The report clearly acknowledged the significant challenges and complexity of transforming the ONTC. At the same time, she specifically notes that, "There is little doubt that without change, the operation of the ONTC in its current structure will require taxpayers to subsidize its operations on an annual basis". This is a subsidy that is only projected to grow into the future.
Our discussions with northern leaders show a clear consensus that the current state of the organization is not sustainable and change is needed. It is also clear that the services provided by the ONTC are vital to Northern communities. Transformation of the ONTC is intended to save taxpayers money in the long run while ensuring vital transportation and communications services continue to be provided to northerners.
I must stress that the $820 million in liabilities that the Auditor noted in her report is not an accurate representation of our government's approach to transformation. I have stated for quite some time now that I do not believe divestment is the only option before us. Different lines may require different solutions. That still remains the case today.
The report makes it clear that no final decisions on the future of the ONTC have yet been made. We continue to explore transformation options that include public ownership, restructuring, alternative service delivery, new partnerships, and finding new owners. That is the work underway now, certainly to inform decision making, a full look at all costs and liabilities under each scenario will be included.
Our government is working with communities across the North to develop a multi-modal transportation strategy. The ONTC motor coach line continues to service its bus routes, we remain fully committed to continuing the Polar Bear Express train service between Cochrane and Moosonee and we will ensure the ONTC continues its current operations until decisions can be made.
At the end of the day this is about finding a sustainable solution. Our government will take the time to meet the aims of sustainable employment, continued economic growth, and a strong transportation and telecommunications network in Northern Ontario."
--Michael Gravelle, Minister of Northern Development and Mines