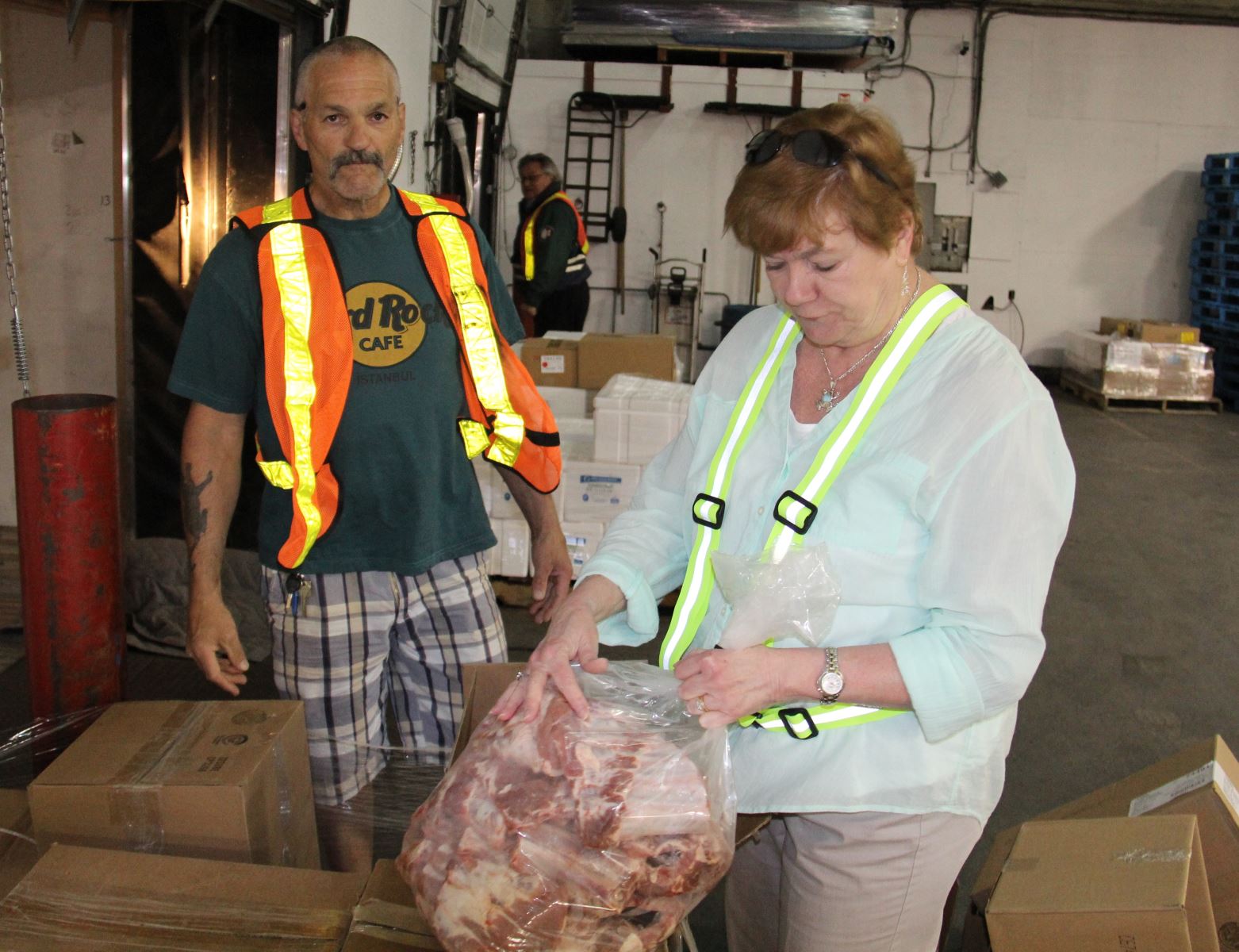 Volunteer Mike Busch and Gathering Place Executive Director Jill Clark inspect a donation of pork this morning at Erb Transport. Photos by Jeff Turl.
Bad news turned into great news for the Gathering Place soup kitchen today after help from a local towing and transport company.
Yesterday morning a transport truck with a refrigerated trailer carrying a load of frozen pork, left the road near Rutherglen and tipped over.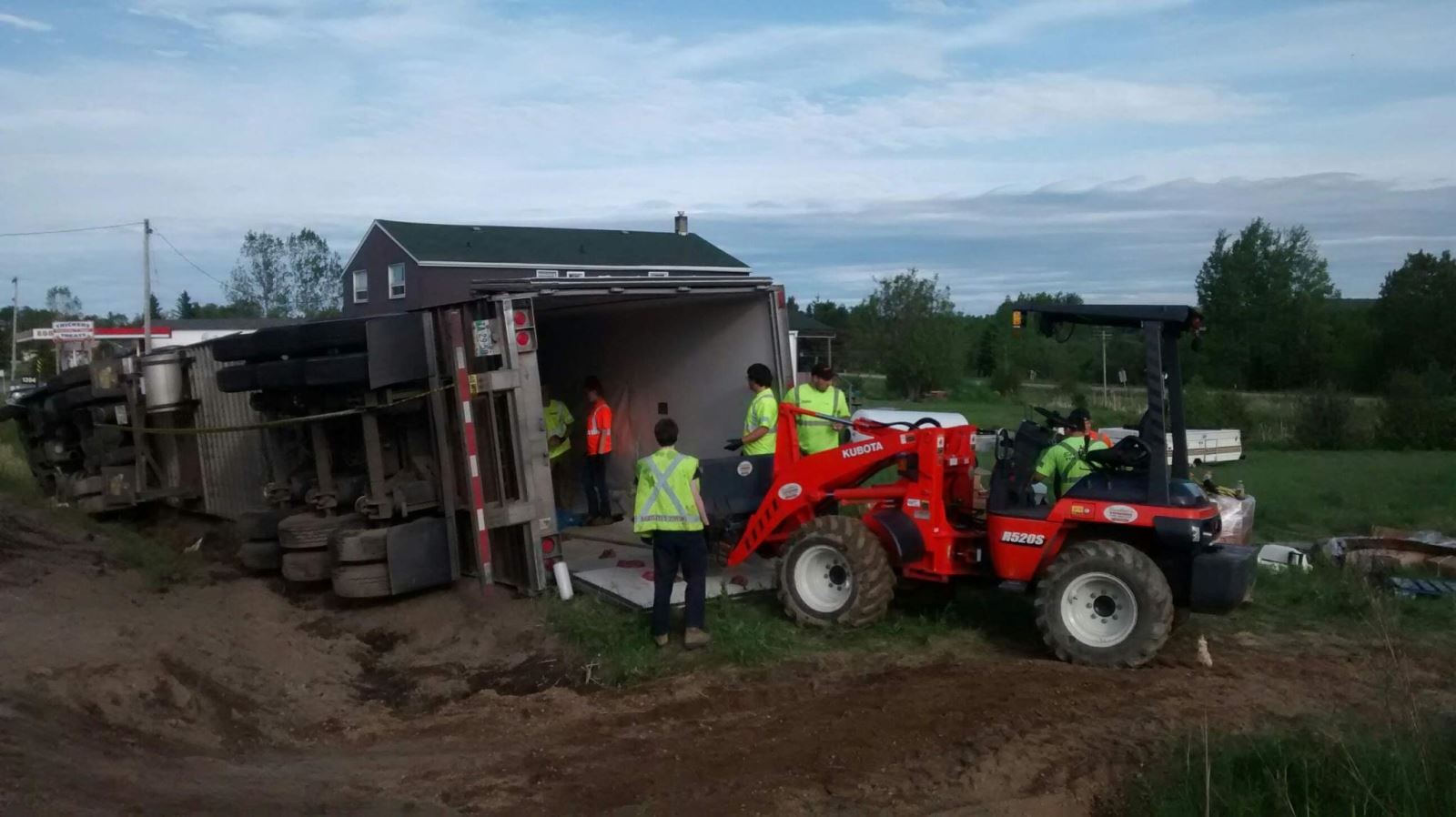 Photo courtesy T.J Elzinga.
Today, instead of being wasted, some of that meat is going to feed North Bay's hungry.
When Barlett's Towing was told by the owner to dispose of the meat, they called around to see if at least some of it could be put to good use.
One of those places called was the Gathering Place.
"Bartlett's phoned and said,'We have this meat for you' and I said, I have to find somewhere to put it, called Erb and it was a done deal," said Executive Director Jill Clark,
It's not the first time Erb Transport has pitched in to help.
"We don't have storage space so at Christmas when we have the invasion of the frozen flying turkeys --- 200 of them were donated --- we had nowhere to put them and Erb stepped forward and allowed us to store them in one of their refrigerated units and we came and got them when we had room," explained Clark.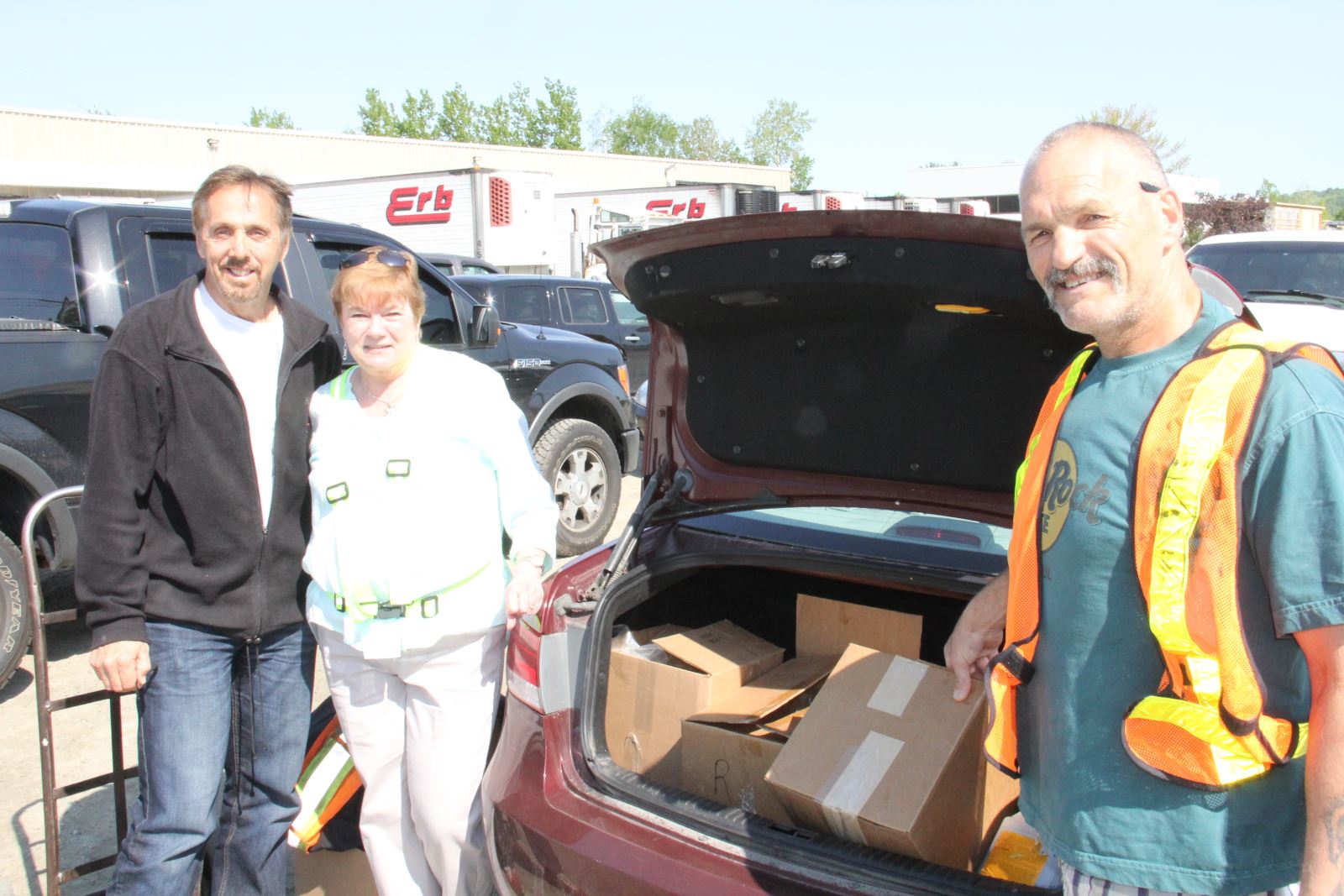 Pat Madigan, Erb Transport co-ordinator of overages, shortages and damages, Jill Clark and Mike Busch load up the car to deliver pork to the Gathering Place.
"Those guys are stars. It would be a crying shame for this food to go to waste."
This morning, Clark was happily picking up some of the meat.
"It's amazing. Lean, good quality protein is one of the largest expense items in our budget and so this means there is more money for milk and fruit and all the other things that we need to buy.
"We serve about 150 lunch meals a day, so that's three or four roasts a meal. This meat will probably last us, assuming we don't have pork everyday, about six months. It's absolutely fabulous."
Clark says the group doesn't get this kind of donation very often, so when it does it's "happy dance time".
'We got a great donation from the Wall (Education Centre) when it closed down for the season last year of 1,000 pure Angus beef burgers.
"The problem is people think that hunger means you have no food, but most of our guests are malnourished. They don't get good quality food. So all the food we prepare is fresh, made from scratch and complies with the Canada Food Guide."
So, thoughtfulness has turned a bad story into a good one.
"In Canada we waste 35 billion dollars a year," said Clark. "There is no reason why anybody should be malnourished."