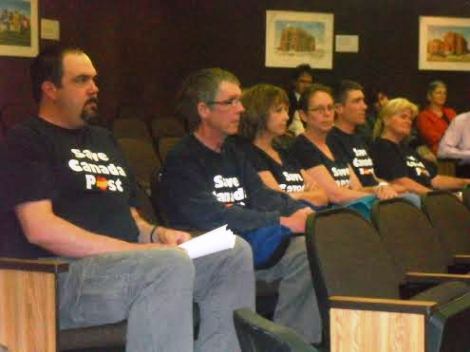 Although council was only an hour and a half long on Monday evening, it still had a number of presenters which kept councillor's busy.
First, North Bay City Council saw a presentation soliciting help in the form of toilet paper for those who visit the North Bay Food Bank.
A formal request was put in by representatives of North Bay Food Bank and organizers of the TP run for people to donate rolls or bags of toilet paper within the next couple of week so that they can distribute it in conjunction with the food services that they already provide for those who live in the city.
Two presentations with varying viewpoints also took on the issue of changes to Canada Post's mail delivery services.
Don Rennick was there on behalf of the Taxpayer's Association, questioning in his presentation the monopoly that Canada Post has in its providing of mail service and asking whether or not moving mail delivery to centralized boxes would affect the timely payment of city taxes and fees.
On the other side of the coin was a presentation from the Local President of the Canadian Union of Postal Workers, who was there to ask council to forward a motion requesting that Ottawa reconsider its changes to it's delivery practices to individual households.
Issues about the recent stamp price increases, as well as a changing makeup of what is being carried by mail deliverers was also discussed, with councillor Darryl Viallancourt pointing out that he would like to see the term 'diversification' added to the motion regarding a subject that has been somewhat shrouded, with much of the negotiations and discussions closed to outsiders, including municipalities.
Finally, Case L'Ami was back at council, frustrated with the progress (or the lack thereof) on Lakeshore Drive.
This week, L'Ami pointed out that the signage to the one lane gravelled passage still reads 'road closed', discouraging anyone who's brave enough to drive down it from coming towards his business.
In response, councillors cited insurance concerns and liabilities if they were to open the unfinished road, now well beyond planned and revised completion dates.