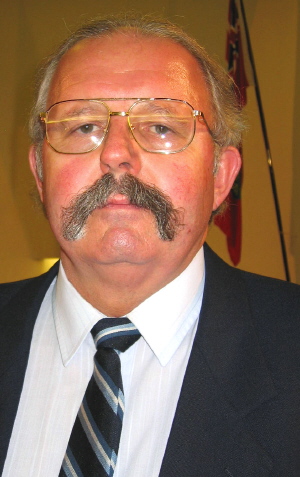 On February 6, 2014 an honorable man, dedicated father and friend left behind his pain and suffering here on earth to join his beloved parents Dorothy and Jim.
We are proud to be the sons of Tom (Timber) Graham, a man synonymous with the game of football in Northern Ontario and so much more.
Our Dad was a teacher of principals, respect and humanity with a healthy degree of humility.
In the sports arena he taught us, and those he coached, the true meaning of discipline and sportsmanship, a philosophy he lived by. Fondly and respectfully known as Coach Graham, Dad spent his adult life sharing his knowledge of the game with those who had a mutual love and desire to just play football.
Dad was a caring man, sensitive to the plight of others and it was not uncommon for those in need of a friendly caring voice to hear him checking in on them on a regular basis.
Left behind to mourn his untimely departure is his only sibling, his brother Bill, wife Donna and niece Sara.
Although Dad and Bill lived at opposite ends of the country they had a remarkably close bond.
Dad was so proud of his little brother and he could not resist bragging about Uncle Bill's long and successful military career and the many interesting places throughout the world that he was stationed.
There were many people important in Dad's life but one outstanding friend and confidant was our Mom Debbie.
They were separate but inseparable and they took care of each other.
Their relationship and devotion to one another is one we hope others might be inspired to follow.
Dad also leaves behind his Aunt Jean Burrows, Aunt Barb (Boothe), nieces Susan and Lee, Uncle Greg (Claudia), Aunt Linda (Bob) and their children.
He will forever be missed by his long time and devoted friend Sherry Sullivan.
He is predeceased by our grandparents Jim and Dorothy Graham (Burrows).
Visiting for Tom will be held in the Martyn Funeral Home on Tuesday from 2-4 & 7-9:00 PM and on Wednesday from 2-4: PM.
A time of celebration will be held at the 406 Wing (406 First Avenue) on Wednesday February 12th from 7-9:00 PM.
We have so many people to thank.
We want to express our gratitude to Dr. Cowan, his colleagues and office staff for the compassion they showed Dad.
He always felt they showed him special attention and it made the journey through his illness easier on him.
We thank the staff at the Sudbury Health Science Center for the friendly caring attention they gave him during his treatments.
A big thank you to nurse Mona at North Bay Regional Hospital for treating Dad graciously and with humour.
Debbie is indebted to Nurse Paula and Doctor Gagne at the Regional Center for the care and compassion shown toward Jeff as he sat by his Dad's bedside through those last hours.
As we carry on our lives without you we will aspire to carry forward within us your gentle persuasion, your wisdom, morals and values and yes we will keep our heads on a swivel.
Love you always, your sons Jeff and Greg

Online condolences at www.martynfh.com
*****
Former City Councillor and well known coach Tom 'Timber' Graham died Thursday night.
Graham was a well-respected business man, politician and coach.
He first took a run at council in 2003 where he was the eleventh top vote getter just edged out by Sarah Campbell, but would join the council table November 01, 2005 when Tom Mason left North Bay for the Cayman Islands.
But it was his love of football Tom may have been best known for.
He played in high school and that love of the game would never waver leading him to build the North Bay Bulldog Football Club and become a member of the North Bay Sports Hall of Fame.
BayToday extends our heartfelt condolences to his family.
Visitation will take place at Martyn Funeral Home
464 Wyld Street
Tuesday, February 11th, 2014, 2:00pm - 4:00pm and 7:00pm - 9:00pm
and
Wednesday, February 12th, 2014, 2:00pm - 4:00pm