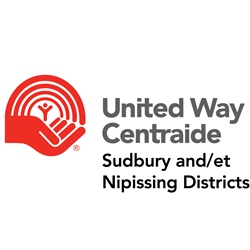 United Way
News Release
*****
This past December, United Way celebrated a successful 2013 Nipissing Campaign.
This success has since been translated into $65,600 of funding for 12 local social service programs within the Nipissing community. An additional $30,000 will support local United Way programs and other charities through designations from donors.
That is a total of $95,600 going to support a stronger, more vibrant Nipissing community.
The 2014 funded programs are:
- Alzheimer's Association of North Bay and District – Dementia Art Therapy
- Autism Ontario North Bay and Area – Active Kids with Autism
- Canadian Red Cross – Disaster Services
- Canadian Red Cross – Seniors Transportation
- Elizabeth Fry Society – Ongoing Support & Volunteer Services
- Learning Disabilities Association – North Bay Services – Community Resource Program
- Low Income People Involvement of Nipissing – Community Volunteer Income Tax Program
- Low Income People Involvement of Nipissing - Housing in Trusteeship (HIT)
- Nipissing Association for Disabled Youth - Providing Adults with Developmental Disabilities Lifelong Experiences
- Patrick 4 Life – Partici-Patrick
- St. John Ambulance – Community Services Patient Care
- AIDS Committee – Food Voucher
"Building the annual campaign since opening the Nipissing office has been an exciting process to be a part of. However, seeing the local social service groups who are able to grow their programs due to the funding available has a much stronger impact on my role at United Way and especially on the Nipissing community as a whole," shared Katina Matheson, community capacity coordinator.
"Just three years ago, we were funding 5 programs, now we are at 12 – it is incredible progress and wouldn't have been possible without all of our generous volunteers and donors – thank you!"
"Our success in Nipissing could not be possible without donors and volunteers in the workplaces. Also, we would like to recognize the North Bay Citizens Advisory Panel volunteers, who spend many hours visiting agencies and making program funding recommendations. Congratulations to the agencies receiving program funding!" stated Michael Cullen, executive director of United Way Sudbury and Nipissing Districts.
*****