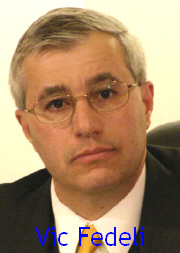 Nipissing MPP Vic Fedeli
News Release
*****
Premier Kathleen Wynne is simply not to be believed when it comes to any promise she makes on taxes and will do whatever the NDP dictates so she can cling to power, PC MPP Vic Fedeli asserted today.
Fedeli was reacting to news that Premier Wynne is desperately backing away from new taxes for Ontarians as part of her Toronto transit scheme.
"The Liberal tax-and-spend record of the last decade is quite clear. They promise one thing as an election approaches, then do the opposite afterwards – the Health Premium tax is a prime example," said Fedeli.
"This is a pre-election mirage intended solely to get the Liberals past the next vote."
Fedeli says Wynne pledging not to raise taxes to fund Toronto transit flies in the face of the advice of her own handpicked transit panel.
Given that the Premier has shown no interest in reining in spending or finding efficiencies, she now has to explain how she plans to come up with the $2 billion she's banking on in annual funding for Toronto transit, Fedeli continued.
"Whether it's transit or the economy, this government has proven they have no plan," said Fedeli.
"Working with the NDP, they'll do whatever it takes to stay in power."
"It's time for the people of Ontario to have their say - what we need here is a change of direction," said Fedeli.
"We're the only party with a plan for transit and a plan to bring good jobs back to Ontario."