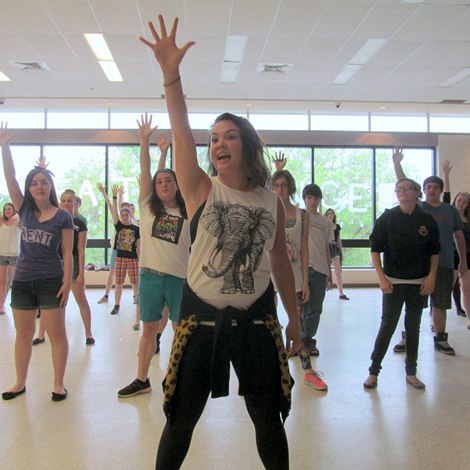 Near North District students rehearse the audition song and dance number during the Theatre Out Reach on Stage (TOROS) information night Sunday night.
"Pipin kicks butt," Director Shane Southcott told a group of eager Near North District students Sunday night.
The students were at Widdifield Secondary school to learn the audition song and dance number for this year's 28th Theatre Out Reach on Stage (TOROS) show, which changed the course of Southcott's life, 'Pippin'.
He says that the play is a complex one that tells the tale of a play within a play within the head of Pippin a young prince, son of King Charlemagne holy ruler of the Roman Empire, who is trying to find significance in his life.
"Which all sounds kind of heavy and nasty but it's not, but it has nastiness underneath," he tells the kids.
"I've been waiting for over 20 years to do Pippin."
Southcott, fresh off a long journey back to the Bay from Mexico, explained that his Halloween treat at the age of ten was no trick.
"I didn't like theatre … the most important thing for me was Christmas and Halloween. And my mom told me that I wasn't going to be able to go trick or treating because we were going to go see some play called Pippin."
"It was the first professional show I ever saw in my life -- and I hated her for it because I couldn't go out trick or treating – I was ten years old and those candies were very important to me, but I went and the show it changed my life. It was all I wanted to do after I saw that show it was everything Pippin – Pippin 24 -7."
"And that's your summer and it will be outrageously cool!"
TOROS is open to students in Grade 8 to Grade 12 and this year officials expect over 80 students to participate in the production.
They note that students who are involved in the summer program gain invaluable experience putting on a big musical and experiencing all aspects of theatre from costumes to being on stage.
They also mention that the staff consists mainly of TOROS Alumni who are now training at the post-secondary level in order to pursue careers in the performing arts.
Auditions will take place Wednesday, June 4th and Thursday, June 5th with callbacks on Sunday June 8th.
The students will get right to work with the first rehearsal on Monday June 9th.
To book an audition time email torosinfo@gmail.com.