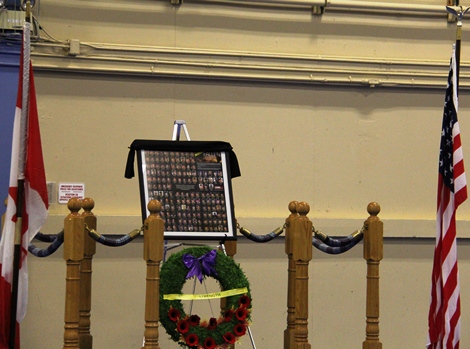 A portrait of the 158 Canadian Armed Forces personnel who made the ultimate sacrifice during the Afghanistan mission stood flanked by a Canadian and American flag in the centre of the National Day of Honour event at CFB North Bay Friday.
Canadians across the country including 22 Wing/CFB North Bay, joined members of the military at special commemorative ceremonies celebrating and remembering all who served in the Afghanistan mission Friday.
Colonel Sean Boyle, 22 Wing Commander, joined by FedNor Minister Greg Rickford, MP Jay Aspin, MPP Vic Fedeli, and Mayor Al McDonald, took in the National Day of Honour.
Organizers say the event allowed the community to salute the fallen, honour serving members and veterans, celebrate the strength of Canada's remarkable military families and give tribute to all who participated in Canada's 12-year mission in Afghanistan.
Boyle, an Afghanistan vet, vowed in his address that the 158 Canadian Armed Forces personnel who made the ultimate sacrifice during the mission will not be forgotten.
"Our soldiers traveled halfway across the world to protect our interests and defend the freedom of the Afghan people who suffered devastation poverty and the loss of millions of lives as a result of decades of conflict in that country. They also fought to protect innocent people here in Canada and around the world from terrorists who operated in Afghanistan with impunity."
"Sadly 158 Canadian Armed Forces personnel made the ultimate sacrifice during this mission and thousands of others were injured in line of duty. We owe them and their families a debt of gratitude that can never be repaid."
Reflecting on his first deployment in Afghanistan and the 12 subsequent assignments after that, Boyle says no one forgets the experience as they witnessed true ugliness but he adds there is tangible evidence in the country that Canada's 12-year effort indeed made a difference.
"I'll be quite honest I remember thinking to myself if I die today I hope my contribution will have meant something," he states.
Although I had the great fortune to return from each of my appointments unscathed, I stand here today to answer the question I asked myself before that first convoy -- I can categorically affirm that the sacrifice of those 158 brave Canadians and the thousands that return to Canada injured absolutely did mean something."
"I have seen firsthand the positive impact Canadians serving in Afghanistan have had. Canada has made a tangible difference in Afghanistan by helping some of them world's most vulnerable people."
"Today is the day to recognize the bravery, dedication, valour and professionalism of all members of the Canadian Armed Forces who have served in Afghanistan. It is important that we stand together to commemorate the commitment courage and selflessness of our military professionals and all of those comrades who came home injured and particularly those who made the ultimate sacrifice and did not return home at all - they shall not be forgotten."