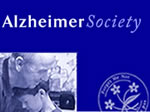 The Alzheimer Society of North Bay
News Release
*****
The Alzheimer Society of North Bay will be exhibiting a large scale mural at Northgate Square in Tower Court from Monday, January 27th, 2014 to Friday, January 31st, 2014.
The mural which will be installed on Monday, January 27th, 2014, is designed to help shed light on the disease, as January is Alzheimer's Awareness Month.
The mural itself, which stands eight feet tall and eight feet wide is comprised of paper Forget Me Not's, which are the symbolic flower for Alzheimer's disease.
The flowers were created and decorated by participants who attend the Alzheimer Society's Dementia Art Program which attends eleven long-term care and retirement homes, as well as having two public art sessions.
In an effort to reach the general public and those who are interested in learning more about the disease, the Alzheimer's Society staff will be on site on Wednesday, January 29th, 2014 from 10:00 a.m – 3:00 p.m.
More About the Dementia Art Program
The Dementia Art Program has allowed our in-house Art Program Coordinator to directly service people who suffer from Alzheimer's disease or a related dementia.
By conducting therapeutic art sessions in the district's long-term care centres, retirement homes, The North Bay Regional Health Centre, St. Joseph Mother House, as well as public art sessions, we are able to provide an hour dedicated to the needs of the individuals living with the disease, allowing for a sense of accomplishment and self-worth.
This hour of therapeutic art improves mood and behaviours, reduces anxiety, and provides the clients with a new way to communicate, as words are often lost.
The program engages many of the best practices for dementia care, including socialization and interaction with others, a structured routine program that involves consistency, non-verbal activity, and the guarantee for successful outcomes.
This program truly dispels the misconception that individuals with dementia are lost forever.
Instead, by viewing their art, we learn that they are still here, only in different ways.
*****