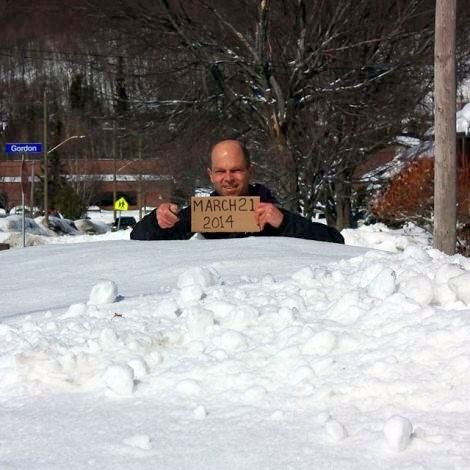 North Bay-Mattawa Conservation Authority
News Release
*****
Winter 2013-2014 will go down as the winter that never ends.
As part of the watershed flood forecasting program, the North Bay-Mattawa Conservation Authority (NBMCA) continues to assess the snow pack, one of the tools used to determine the risk of area flooding.
This week's snow survey confirms what everyone is talking about – it still looks like the middle of winter.
In fact, not only did we set some new records for snow depth for the years the NBMCA has on record, the area rarely receives this amount of snow in an entire season.
The milder weather and precipitation that we have experienced this past week has resulted in a slight decrease in snow depth; however, the water content has increased slightly. All three survey sites are over 200% of normal for this time of year, with North Bay at over 300% of normal.
The good news is that weather in the coming week presents ideal conditions to slowly decrease the amount of snow in the area. Temperatures are expected to continue to be above zero and dipping below freezing at night. Some mixed precipitation is forecasted for the end of the week.
Snow is measured for depth and water equivalence at three locations in the watershed. Data for the season can be found on the NBMCA website at www.nbmca.on.ca.
North Bay Golf and Country Club (Chippewa Creek Watershed, North Bay)

Current Average Snow Depth for April 1, 2014 75.7 cm (387% of normal)
Current Average Water Equivalence for April 1, 2014 22.3 cm (320% of normal)
Average Snow Depth for April 1, 2013 30.0 cm
Highest recorded snow depth for April 1 since 1988 76.2 cm in 1997

Corbeil Conservation Area (La Vase River Watershed, Corbeil)
Current Average Snow Depth for April 1, 2014 71.9 cm (335% of normal)
Current Average Water Equivalence for April 1, 2014 18.3 cm (282% of normal)
Average Snow Depth for April 1, 2013 32.9 cm
Highest recorded snow depth for April 1 since 1987 71.9 cm in 2014

Shirley Skinner Conservation Area (Wasi River Watershed, Chisholm)
Current Average Snow Depth for April 1, 2014 65.9 cm (387% of normal)
Current Average Water Equivalence for April 1, 2014 13.1 cm (224% of normal)
Average Snow Depth for April 1, 2013
Highest recorded snow depth for April 1 since 2006 33.2 cm
65.9 cm in 2014
*****