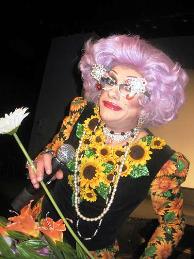 AIDS Committee of North Bay & Area
News Release
*****
The AIDS Committee of North Bay & Area (ACNBA) is excited to announce the return of Lads N' Lashes to the Bay!
The Toronto-based drag troupe, made up of Robin Lauren, Heroine Marks and Chris Edwards, is famous for its raunchy, high camp, Vegas-like show.
Lads N' Lashes will be heating up the stage channeling singing divas Cher, Lady Gaga, Tina Turner, Pink, Adele and many more!
This will be the 13th year for Lads N' Lashes in North Bay, raising much-needed funds for ACNBA's client services and outreach programs.
Tickets are $30 in advance, $35 at the door (if available).
When: Friday, February 28th, 2014
Doors open at 8:00 pm
Show starts at 9:00 pm
Where: Royal Canadian Legion Br. #23 150 First Ave. W. North Bay
Other: This is a licenced event.
Adult language and content.
For more information about Lads N' Lashes go to www.aidsnorthbay.com or contact:
Steve Lamb
Support Services Coordinator
(705) 497-3560 ext. 203
sscacnba@vianet.ca
or
Kirk S. Titmuss
Communications Coordinator
(705) 497-3560 ext. 211
acnbakst@gmail.com
*****