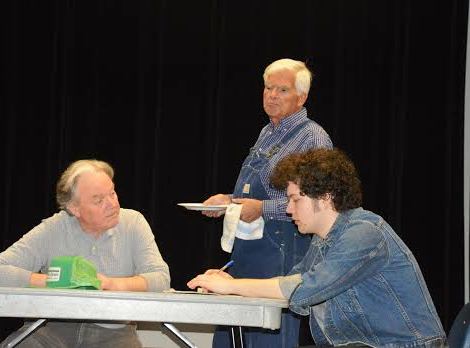 Photo provided.
Award winning Canadian Playwright Michael Healey exposes a warm and touching story one might not expect of two elderly bachelor farmers in 'The Drawer Boy'.
Set in 1972 on a farm near Clinton, Ontario, The Drawer Bay is a story of friendship, loyalty; truth and life are all exposed by a young actor Miles, played by Caleb Geden, who has come to live with them to do research for a play.
His research pushes him to try and understand the heartwarming relationship the two have developed over the decades as they deal with love, loss and caregiving.
Angus, played by Rick Blair, who was injured in the Second World War and Morgan, played by Brian Nettlefold, his friend since they were boys
Johanna McPherson and Leslie Stamp co-direct the drama/comedy.
The Drawer Boy, Winner of the Governor General's Literary Award, four Dora Mavor Moore Awards and the Floyd S. Chalmers Canadian Plays Award, runs for four shows only May 7-10, 2014 at École Publique Odyssée, 480 Norman Ave. North Bay.
Curtain time is 7:30pm sharp.
To purchase tickets: Call the box office -705-358-1425, at Gulliver's on Main St. or reserve online at www.gatewaytheatreguild.ca or purchase at the door.