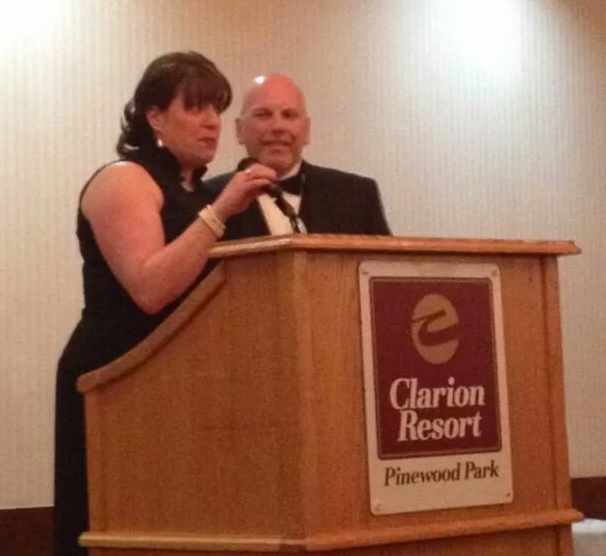 Katharine and John Strang accept the Kiwanis 2014 Citizen of the Year award. Submitted photo.
A couple who exemplify the volunteer spirit of North Bay, Catherine and John Strang, were honoured last night as Kiwanis 2014 Citizens of the Year at the Clarion Resort Pinewood Park.
"It was a very humbling experience," John told Baytoday. "It was great to be surrounded by family and friends."
The couple got the news in April via a phone call from Chris Mayne, telling them it was the first time a couple had been awarded the honour.
"After we hung up, I told my wife that they must have reached the bottom of the barrel," he said jokingly.
He admits he was "shocked" to be nominated, calling volunteering "contagious".
"It's such a big part of our lives. We hope our children follow suit and live by the values we've set."
The Strangs will continue to volunteer, he continued. "We love it."
He also supports other community events, including the Papa Joe Run tomorrow morning.
The avid motorcyclist exclaimed, "It'll be my first ride of the season."
The Strang's contributions to the community is long. It includes the Ride for Dad, Chamber of Commerce, Summer in the Park, Coach 4 Food, North Bay Food Bank, Easter Seals, North Bay Blooms, Laurentian Ski Club, West Ferris Parent Council, and Dreamcoat Theatre.