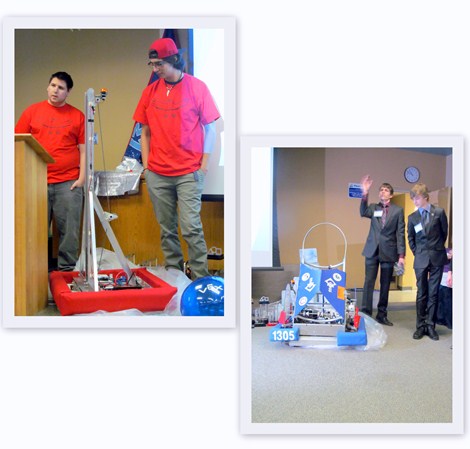 Living up to one of the core principle of FIRST (For Inspiration and Recognition of Science and Technology) Robotics, Near North Student Robotics Initiative (NNSRI), FIRST Team 1305; Ice Cubed launched their 2014 season on Tuesday.
Robotics promotes science, technology and positive leadership and encourages students to participate in the life changing experiences offered through FIRST competitions.
Team 1305, which is open to all secondary students of the Near North District School Board, comes together to dissect instructions, brainstorm ideas and then construct their robot for competitions around the province hopefully leading them to the World Championships in April.
Over the past 14 years the years the team has enjoyed tremendous success not only at FIRST competitions but also in the community and this year is no different as the team is truly excited to share what FIRST is all about by hosting a regional event and by mentoring Team 5035 a new team from Nbisiing Secondary School.
NNSRI team member Abbey Thompson says she has grown immensely through her time with the robotics team and looks forward to mentoring others.