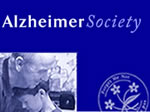 Alzheimer Society of North Bay
News Release
*****
The Alzheimer Society of North Bay is set to host their annual Walk for Memories on Saturday, February 22nd, 2014 from 12:30pm- 3:00pm at the North Bay Mall.
The Walk For Memories is the society's largest fundraising event dedicated to increasing awareness and raising funds for vital programs and services that support people living with Alzheimer's disease and related dementias right here in the community.
"It's a wonderful opportunity to get involved, raise funds for the Alzheimer Society, and have fun with friends and family." says Executive Director Linda Brown.
"In 2013, our dedicated walkers raised over $7,300! This year we have set a goal of $7,000 and we are hoping the community will once again jump on board to support such an important cause."
Participants of this year's walk will not only have the chance to win some great door prizes and awards, but also have the opportunity to participate in a scavenger hunt!
For those that are interested in participating, pledge forms can be picked up at the Alzheimer Society's office; 1180 Cassells Street.
Or participants can register online at www.walkformemories.ca!
*****