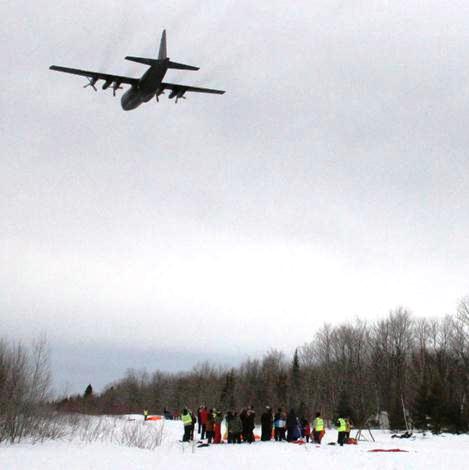 Putting theory to practice is what today's search and rescue mission was all about for students from Widdifield and Northern Secondary Schools outdoor education classes.
Partnering with BAYSAR, Canadian Forces North Bay and Canadian Forces Base Trenton, the students implemented their outdoor survival skills for a training exercise.
In the bush just off Highway 11 North, behind the old Bowmark Missile site, the students carried out a scenario of being lost in a cold forest with members of their party injured.
In order to be rescued they had to send out an SOS by creating smoke so they built fires, and used signalling devices to help a real CC-130H Hercules and SAR crew locate and evacuate and rescue them.
Outdoor Education teacher at Widdifield Karl Giesbrecht says the practical experience is invaluable to his students.