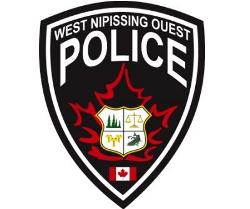 West Nipissing Police Service
News Release
*****
During the week of January 24th to January 30th, the West Nipissing Police Service logged 187 calls for service.
Among those were 45 9-1-1 calls, 27 police Assistance calls, 7 alarms, 4 Assaults, 4 Domestic Disputes, 4 Thefts, 3 Drug Offences and 2 Threats.
On January 25th, police were dispatched to a business on Front St. were the complainant stated that someone had threatened him with a knife.
Once on scene, the officer was told that the victim was sitting in his vehicle when another male got angry at him.
The accused allegedly brandished a knife and threatened him with it saying that he would kill him.
The suspect then broke the driver's side mirror and slashed his tire.
The accused was later located in North Bay and brought back to Sturgeon.
The 31 year old Sturgeon Falls resident was charged with Mischief Under $5000, Uttering Threats and Possession Of A Weapon For A Dangerous Purpose.
He was held in custody and brought to Bail Court the next day.
On January 25th, a Quesnel Rd resident called the police to report that his snow blower was stolen sometime overnight.
The owner described that snow blower as a Club Cadet, bright yellow in color, with double wheels and it has 945SSWE written on it.
There are no suspects at this time but police are still investigating.
On January 26th, police received a call from a Field resident stating that sometime over the weekend, her house had been broken into.
The police attended and observed the side door which had been forced open.
The victim stated that a new HATSAN ESCORT 12 gauge shot gun was taken from under her bed.
A suspect was identified and the investigation is ongoing.
On January 26th at approx. 17:20 a traffic stop was conducted on John St.
The vehicle was observed not stopping for the stop sign at Nipissing St. The vehicle was queried and it was noted that the plates were expired.
Upon speaking with the driver, the officer requested proof of insurance and ownership.
The driver could not provide any documents.
The male driver was also queried and information was received that he was a Suspended driver.
He was issued Provincial Offence Notices for Disobey Stop Sign, Drive Motor Vehicle With No Currently Validated Permit and Fail to Have Insurance Card.
He was also issued and Summons to appear in court for Drive while under Suspension.
The vehicle was subsequently impounded.
On January 27th, the WNPS received a call stating that an assault took place at a Salter St address.
Officers attended and were advised that during a heated argument both the husband and wife would have assaulted each other.
Both were arrested and charged for Domestic Assault and later released on a Promise To Appear with conditions not to communicate with each other.
On January 30th, a 31 year old female was arrested and charged with one count of Criminal Harassment after a complaint was received from her ex-husband stating that he was receiving numerous texts and phone calls from her.
The female was later released on a Promise To Appear with conditions not to communicate with the complainant.
Anyone with information about these or other crimes, please call either the West Nipissing Police Service at 705-753-1234 or Crime Stoppers at 1-800-222-8477 (TIPS).
*****