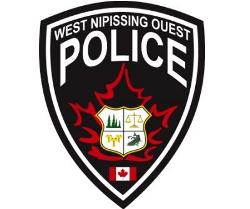 West Nipissing Police Service
News Release
*****
During the week of April 11th to April 17th the West Nipissing Police Service logged 163 calls for service. Among those were 35 9-1-1 calls, 21 Police Assistance calls, 4 Alarms, 2 Domestic Disputes, 2 Frauds, 2 Sexual Assaults and 1 Theft.
On April 13th, a call was received from a residence on William St stating that a female was heard screaming for help.
Officers attended and spoke with the female who was visibly upset and shaking.
She advised that her boyfriend had broken into her apartment where a verbal argument started.
During the argument the male broke several items in the apartment then left the area.
Police soon located the 20 year old accused and charged him with one count of Break and Enter and 1 count of Mischief under $5000.
He was kept in custody and brought to bail court the next day.
The West Nipissing Police Service has been busy enforcing the rules of the road with 43 Traffic Enforcement calls entered within the last week with charges ranging from Cell Phones, Seatbelts, Stop Signs and Speeding violations.
The Easter long weekend is upon us so the West Nipissing Police Service would like to encourage drivers to be careful when driving over the weekend.
Here are a few simple safety tips:
• Plan ahead and be realistic about your travel plans. Allow extra time for possible delays that may occur due to the increased traffic volume,
• Long road trips can be tiring for drivers and passengers but also on your vehicle, so make sure it's up for the drive. Remember to check your engine oil, washer fluid, lights and inspect your vehicle tires, including the spare, to make sure they are in good condition and properly inflated,
• Weather conditions can change suddenly. Even in Spring, drivers may encounter winter-like conditions in some parts of the province so be aware that winter tires may still be required,
• Whether travelling long distances or a short trip, always maintain safe travelling distance between vehicles. Allow at least 2 seconds of following distance in good weather conditions, more if the roads are wet or snow covered,
• Set an example for your children and other drivers by making smart driving decisions on the road. Start by always wearing your seatbelt and make sure that everyone else in the vehicle does too.
The 2014 DARE (Drug-Abuse-Resistance-Education) program is in the books.
135 grade 5 students have graduated from the program this year.
This program gives the students information on the dangers of drug abuse and also helps them to effectively resist drugs and violence by teaching them the personal skills techniques necessary to deal with Peer Pressure and other influences.
It also helps the children to increase their Self Esteem and provide willpower to refuse drugs in any situation.
The DARE program graduations were held this week where each student received a certificate and t-shirts (and a few toys).
The program lasted 9 weeks and was taught to the grade 5's in all of the grade schools in West Nipissing.
The West Nipissing Police Service would also like to acknowledge and thank the Club Richelieu for their financial support over the last three years.
Anyone with information about any crime, please contact either the West Nipissing Police Service at 705-753-1234 or Crime Stoppers at 1-800-222-8477 (TIPS).
*****