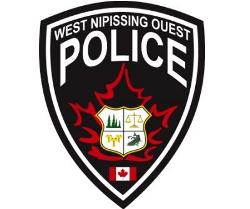 West Nipissing Police Service
News Release
*****
During the week of January 31 to February 06, 2014 the West Nipissing Police Service logged 164 calls for service.
Among those were 35 9-1-1 calls, 22 Police Assistance calls, 5 Domestic Disputes, 3 Alarms, 2 Animal Complaints, 2 Thefts, 1 Threat call and 1 Break and Enter.
A 38 year old Sturgeon Falls man was charged with one count of Sexual Assault after an investigating was initiated stemming from an incident which occurred in 2009.
The victim initially attended the North Bay OPP detachment and divulged that she had been sexually assaulted at a residence located in Sturgeon Falls.
This information was then forwarded to the West Nipissing Police Service where the investigation continued.
On January 31st, Rene Dubuc was charged with Sexual Assault and released on a Promise To Appear with conditions not to communicate with the victim and/or any witnesses.
On February 1st, officers attended a Hwy 17 residence in Sturgeon Falls after receiving a 9-1-1 call. The female caller stated that she had just been assaulted by her boyfriend.
Police attended and spoke with the victim in whom she stated that during a heated argument, the male grabbed her in a headlock dragging her out of bed and told her that he would kill her.
As a result of the investigation a 29 year old male was charged with Assault, Uttering Threats, Forcible Confinement and 3 counts of Breach of Recognizance. He was held in custody awaiting a bail hearing.
On February 2nd, police were dispatched to a Domestic Disturbance in progress at an Olivier Rd residence located in Verner.
The female victim had managed to leave the residence escaping from her violent husband.
The victim was brought back to police headquarters where she provided police with information in regards to numerous assaults at the hand of assailant.
Investigation revealed that during today's argument, the accused smashed the laptop computer, pushed the victim on the couch while choking her and when she was outside, chased her and dragged her back into the residence.
Information was also received about past domestic violence incidents.
The 30 year old male was located and charged with numerous charges including Assault, Assault Causing Bodily Harm, Forcible Confinement, Firearms Offences, Uttering Threats and Domestic Mischief. He is being held in custody awaiting a bail hearing.
On February 3rd, a complaint was received stating that at approx. 04:30 that morning someone entered their residence located in the Alain Court area and tried to steal their television.
The complainants said that they were sleeping in the bedroom when their dog started barking.
They opened the bedroom door and the dog ran downstairs.
They then heard voices and a loud bang on the floor. The would-be thieves then ran out the back door with the dog chasing them.
Once downstairs, they observed their 52" television on the floor with the screen cracked.
There were no signs of forced entry which would indicate that the thieves might have come in through an unlocked door.
There are no suspects at this time but police are still investigating.
On February 4th, the West Nipissing Police was dispatched to a Cache St residence in Cache Bay regarding a domestic incident.
Once on scene the officer met with the female victim and where she told the officers that she had an argument with her boyfriend and that he had grabbed her by the arms to have her sit down.
She also stated to police that the accused broke a lamp and a telephone.
A 20 year old man was arrested and charged with one count of Domestic Assault and 2 counts of Domestic Mischief. He was held in custody awaiting a bail hearing.
On February 05th, a 17 year old Sturgeon Falls resident now faces sexual charges after an investigation began when police attended a Main St residence responding to a domestic disturbance.
Information was received that on three different occasions a 17 year old male had sexual contact with an underage girl.
The male now faces charges of 2 counts of Sexual Interference, 3 counts of Sexual Assault and one count of Invitation To Sexual Touching.
He is being held in custody awaiting a bail hearing.
On February 06th, at approx. 1AM a noise complaint was received from a Verner resident located on Principale St.
Police attended and observed an intoxicated female in the stairwell of the apartment building.
Officers spoke with the female and observed that she was unsteady on her feet and also detected a strong odor of alcohol coming from her breath.
At that time, the woman was apprehended and arrested for Public Intoxication.
A Provincial Offence Notice was issued after her release from custody.
Anyone with information about these or other crimes please contact either the West Nipissing Police Service at 705-753-1234 or Crime Stoppers at 1-800-222-8477 (TIPS).
*****