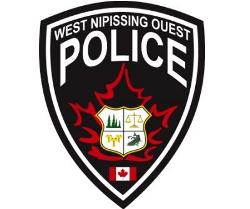 West Nipissing Police Service
News Release
*****
During the week of March 07th to March 13th, 2014, the West Nipissing Police Service logged 168 calls for service.
Among those were 33 9-1-1 calls, 24 Traffic Enforcement incidents, 18 Police Assistance calls, 4 Thefts, 3 Alarms, 2 Assaults, 2 Domestic Disputes, 1 Noise Complaints and 1 Fraud.
On March 8th, the West Nipissing Police Service received a 9-1-1 call from a residence located on Third St regarding a Domestic Dispute in progress.
Officers quickly arrived on scene to find the suspect standing outside the residence.
Officers were told by the female victim that she and her boyfriend got into a heated argument and at one point the accused would have tackled her to the ground and locked her in a bedroom.
She eventually broke the door down which is when she called police.
The 32 year old male was arrested at the scene and charged with Domestic Assault and one count of Forcible Confinement.
He was later released on a Promise To Appear with conditions not to communicate with the victim.
On March 11th, while on general patrol, a vehicle stop was conducted on Nipissing St due to the driver being observed not wearing his seatbelt.
Upon speaking with the driver, the officer could smell a strong odor of freshly burnt marijuana.
During questioning the driver told the officer that he had marijuana on him and gave it to police.
Approx. 60 grams of suspected marijuana was seized from the male driver.
The 20 year old driver was charged with Possession Of A Controlled Substance and released on an Appearance Notice.
He was also charged with not wearing his seat belt.
On March 11th, a call was received stating that their vehicle had been broken into sometime overnight.
The vehicle was parked in the driveway of a residence located in the 100 block of Main St.
The owner stated that the vehicle was not locked at the time and items missing include a wallet containing credit cards and a driver's license.
There are no suspects at this time and no other reports of thefts were received from this area.
On March 13th, the West Nipissing Police Service was dispatched to a Cache Bay Rd residence regarding a domestic disturbance.
Upon arrival, officers spoke with the involved parties which indicated that an argument got out of hand resulting in a physical altercation.
During the argument the female would have pushed and struck her common law husband with a cane.
He responded by hitting her in the face.
Both were arrested on scene and brought back to the WNPS headquarters.
The female was eventually charged with Assault with a Weapon and later released on a Promise To Appear.
The husband was charged with Domestic Assault and will be held in custody awaiting a bail hearing.
Anyone with information about any crime, please call either the West Nipissing Police Service at 705-753-1234 or Crime Stoppers at 1-800-222-8477 (TIPS).
*****