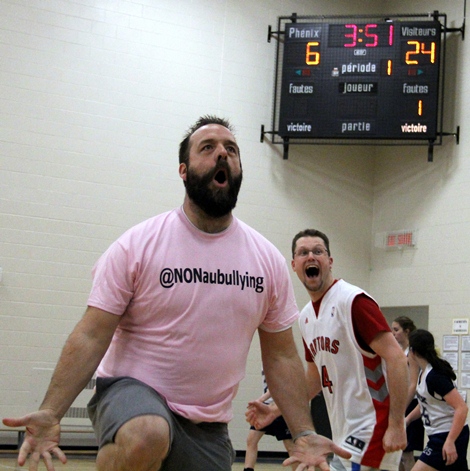 TVO Hard Rock Medical star Stéphane Paquette celebrates a slam dunk during a friendly game of basketball for Pink Shirt Day at Odyssee Wednesday. All photos by Kate Adams.
A friendly game of basketball brought local students, police, media, firefighters, OHL players and other members of the community together at Odyssee Publique on Wednesday afternoon to celebrate National Pink Shirt Day.
Aside from having fun, the day also brought forth awareness and education with regards to the issues of bullying and what can be done to stop it from happening in schools, at home, online and within the workplace.
"Bullying is everywhere in our community and we have to work together to eradicate that," says Sylvie Vannier, a teacher and anti-bulling leader at Odyssee.
The school's No Bullying Campaign, now in its 3rdyear, is helping to spread an ongoing anti-bullying message to the public and is in conjunction with Pink Shirt Day, initiated in 2007 in response to an incident involving a young student; a pink shirt now symbolizing taking a stand against bullying.
Although the movement seems to be growing, the threat of bullying lingers, particularly online, with kids not being able to leave their friends at school, and with the growing popularity of social sites, keeps young people constantly in touch with each other.
As a result, some people feel the need to engage in bullying type behaviours in order to feel dominant in a situation when it comes to their social peers.
"Unfortunately, we know that it's still happening so, in trying to get everyone involved in the discussions, we hope that it gets better," Vannier says.
With new cyber-bullying laws being recently introduced into the Canadian legislature that protects victims, students need to be made aware that what they might say, share or post online can be considered illegal.
This can include sending or receiving texts or photos that, once in the public domain, can be very hard to take back and, in some cases, be next to impossible to delete.
In addition, nationally televised campaigns are being advertised by the Government of Canada, explaining the dangers of bullying through cell phone use, computers and other media avenues that involve making threats or attempting to humiliate others.
"So it's a serious discussion that needs to be had with the students, as soon as they have a phone or access to a computer," says Vannier.
Apart from cyberspace, bullying also occurs in a verbal or physical form.
Cassidy Villienuve, a student leader who helped initiate the school's No Bullying Campaign, says that the groups exists to help people identify bullying within the community and to assist in resolving issues that bring rise to aggressive social behaviours.
"It's really hard to deal with," says Villienuve, who says that she herself hasn't been bullied but that she knows people, including her close friends, who have been.
"So it's something that means a lot to me and I'm always open to hearing people's stories and try to help them get through it," she says.
Villienuve spoke to the highs and lows of being in high school and says that cruelty shouldn't be a factor in a place that fosters personal development.
"High school is something that can be great or it can be horrible," she says.
"Some people look back on it and have these amazing memories for some reason and was horrible for other people who were bullied, and they had trouble in school" Villienuve says, adding that the No Bullying Campaign exists in part to make sure that everyone has a positive experience at school so that students can create great memories.
Perpetrators are sometimes victims of bullying who are replaying a cycle and it's important to make everyone aware that bullying is not okay and that there are better ways to deal with issues in the social milieu of schools, the workplace and within the community itself.
"These issues affect student's academic and personal success," says Vannier.
"I know that we address it and more and more, I think other schools are addressing it as well," she says.