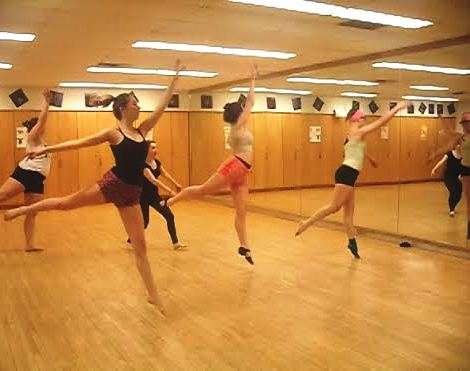 They say that life imitates art. For many Widdifield Secondary students, however, it's clearly the other way around.
On Thursday afternoon, the WSS Arts Department celebrated the SHSM Arts and Culture Program, with a full day of exploratory workshops encompassing dance, music and singing, along with audio and visual technology.
It also consisted of listening to a presentation made by a former Widdifield Fine Arts Teacher, discussing Arts and Culture in our society.
The day also brought back Widdifield Alumni, who are working in the Arts and Culture Sector, to share their skills and experiences and explain their paths in the Arts, from their launching point of graduation from WSS into their current careers and fields.
Former Alumni Desiree Meney, who is a performing arts student at Ryerson University, was at Widdifield on Thursday afternoon to lead a workshop which focused on modern and jazz dance.
Meney says that movement can create the confidence needed to develop positive thinking, foster new ideas and bring physical fitness for everyone who takes part.
One of the main components of the workshop was to focus on posture and presentation in the execution of detailed movements that, in many ways, translates over into many everyday circumstances.
"You can bring what you learn from dance into everyday life," says Meney.
She says that her desire to come back to WSS was based on the fact that the teachers and personalities at the school are so supportive and welcoming of the arts and that she couldn't' resist the chance to revisit and help out.
"I wanted to meet the new students and the teachers who taught me and see where everyone's at," Meney says.
Marg MacDiarmid, leader for the SHSM Arts and Culture program, says that the arts brings creativity and innovation into every aspect of modern society.
MacDiarmid also points to the way art can help students become skilled in the creative and the imaginative self.
"The Arts is an amazing opportunity to obviously build creativity and be innovative," she says.
MacDiarmid notes that the program allows students to not only succeed but to make mistakes, learn from those mistakes and turn those into successes, which further develops their skills into the field of leadership.
She says that art can be just one of the many transferable skills for the students that come from their learning and practising arts; others include self-confidence, public speaking, appearance, salesmanship and the list goes on to include more complicated skills of a more Avant-guard and subtle nature, but most of all, fostering interpersonal skills.
"Whether these students go on to careers that are directly related to the arts or go on into any other sectors, there are so many transferable skills that they take from the arts that will help them in anything that they do," MacDiarmid says.
Emily Hawton, a student at Widdifield, was excited to say that she was taking part in all of the SHSM workshops, in addition to having planned a banquet to cap off the day's events.