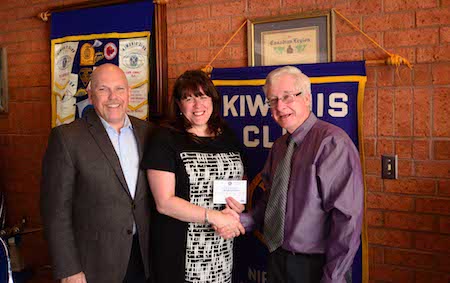 John and Katharine Stang pose for a photo with Kiwanis President Kim Cluff. The couple was named co-winners of 2014 Citzen of the Year. Photo submitted.
A couple that does so much around the community has been recognized as Citizens of the Year for 2014 by the Kiwanis Club.
Kiwanis President Kim Cluff made the announcement on Monday.
Katharine and John Strang, who own and operate U-Need-A-Cab in North Bay, do much more than run a business and that's why they were named the first co-winners of the award this year.
The Strang's are well known for their work with the North Bay Food Bank, Coach4Food program, Dreamcoat Theatre and North Bay Blooms just to name a few.
"They not only volunteer themselves but encourage their entire staff at U-Need-A-Cab to get involved as well," stated Kiwanis president Kim Cluff on www.kiwanisnipissing.com .
Mayor Al McDonald believes the couple is a perfect fit for the award.
"John and Katharine have embraced community leadership and have dedicated themselves to make a difference in our city," said Mayor Al McDonald in an email to BayToday.ca
"Our community is so much richer by their efforts," he added.
This year's Citizen of the Year Dinner to recognize the Strang's and celebrate a rich history of North Bay Citizens of the Year will be held at the Clarion Pinewood Resort,Thursday, May 22nd.
Tickets are available from any Kiwanian or the Chamber of Commerce.
Details www.kiwanisnipissing.com .