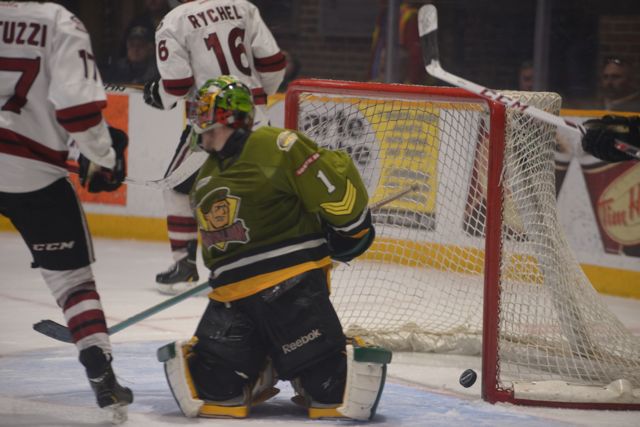 The puck gets behind Jake Smith during second period action. PHOTO BY LINDSAY SARAZIN.
The Storm surge from Tuesday's game 3 turned into a crushing tsunami for game 4 Wednesday as Guelph dominated the North Bay Battalion from start to finish in a 10-1 win at Memorial Gardens.
The win gives the Storm a 3-1 series lead. They can wrap up the OHL championship Friday in Guelph.
"It was a disappointing loss," head coach Stan Butler told reporters at a post-game news conference. "They got the jump on us early and we didn't recover from that and the game spiralled from there."
Early and often as it turned out.
It was clear from the opening whistle that the Storm were on their game...big time.
Centreman Pius Suter scored his first of two on the night, on just the 3rd shot on Battalion goalie Jake Smith and the rout was on. Suter added a short-handed goal later in the frame to give the Storm a 3-0 lead after one period.
"It didn't go the way we wanted," admitted Captain Barclay Goodrow.
Period two didn't go any better...in fact it got worse.
The Storm scored five more, including a beauty as Scott Kosmachuk on a breakaway, selflessly passed to a trailing Tyler Bertuzzi, who put on a dazzling spin move before firing the puck past Smith.
Though not to blame for the score, Smith was pulled by Butler and Brenden O'Neill took over the netminding challenge, and was promptly scored on a minute later on the first shot he faced by Jason Dickinson....his eighth of the playoffs and second of the period.
It was O'Neill's first taste of playoff action.
Behind 9-1 in the third, Nick Paul scored on a power play midway in the period to break the shutout bid of Storm goalie Justin Nichols, but it was way too little, way too late.
Rewind to game 3...the Battalion were leading when they coughed up a pair of goals in the finals 30 seconds to lose a heart breaker.
But Goodrow didn't think that played a role in the lopsided defeat.
"Not much," the San Jose prospect said. "They got the start they wanted. They got the first goal and second goal and we weren't able to rebound from that."
Butler agreed.
"Obviously in any series there is momentum, and momentum can swing very quickly one way to another. There's no doubt what happened in the last minute of the game yesterday was tough on our team, but today's game was a different game and it started, I believe, zero zero."
"In playoffs you have to have a very short memory, because if you don't, you're gonna dwell on things that are going to affect you going forward."
"Are we disappointed? Obviously. Are we upset? Extremely. Are we frustrated? No. We realize we've gotta play a lot better Friday night." (game 5)
To their credit the sellout crowd of 4,242 never once got down on their team despite the score.
To which Goodrow said "We owe our fans another game here."
That will happen if the Troops can bounce back and win in Guelph Friday. In that case game 6 will take place Sunday at Memorial Gardens.