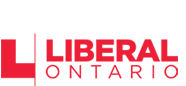 With the provincial election officially underway, Nipissing Liberals still don't have a candidate.
"We're having another meeting Saturday afternoon with another potential candidate," riding association president Gord Rymal told Baytoday.ca.
"We hope to announce one, two or three candidates by Monday."
Several potential candidates have been contacted, says Rymal, but no-one has made a final decision on whether to run.
Rymal admits the association has been turned down by some potential candidates, but says he's not yet concerned the position can't be filled.
"No, we're confident we'll have a candidate," he added.
When someone decides to run, it will be up to them to make the announcement, not the riding association, according to Rymal.
"Our hands are tied."
Once someone declares, the association will set up a nomination meeting.
But the clock is ticking.
With just five weeks left in the campaign, it will be tough for an unknown candidate to conduct an effective run.
The Liberal government's handling of the ONTC affair is thought to weigh heavily against people putting their name forward.
Nipissing MPP Vic Fedeli already has signs up and a campaign vehicle. His office is in the Maingate Plaza on the overpass.
NDP candidate Henri Giroux, who is celebrating his birthday today, has opened a campaign office at 130 King Street and has been busy knocking on doors.
The Liberal candidate in the last election, Catherine Whiting could not be reached by deadline, but has apparently told friends she would not be a candidate.
The election is set for Thursday June 12th.