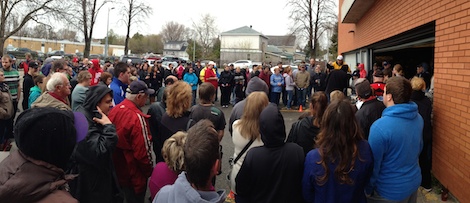 Shoppers looking for a good deal gather behind the North Bay Police Station for the Police Auction. PHOTO BY LIAM BERTI.
It was like getting away with theft right behind police headquarters.

Walking away with newly found treasures, hundreds of people at least felt like they got a few steals after this year's edition of the North Bay Police Service's Bicycle and Property Public Auction.

The Saturday morning sell-off saw heated bidding from beginning to end, raising thousands of dollars along the way.

"It's gratifying to see that some people are very enthused because they set their heart on a particular item, and when they're awarded that item, they're over the moon," said Linda Brogan of the property and exhibits department of the North Bay Police.

"It's unfortunate that we can't find [original] owners for the items that were seized, but it is gratifying to see these items have found a new home," she continued. "As the expression goes, one persons trash is another person's treasure."

An estimated 200 people gathered at the police headquarters to try their hand at taking home hundreds of items including tools, clothing, jewelry, bikes and other seized property.

The annual event is used by the local authorities to dispose of property that is not claimed by their owners after the investigations have wrapped up, much to the benefit of those on the quest for a good deal.

With no reserve bids, some items sold for as little as $5 while others, like one highly contested bike, fetched over $500.

"It's just great to come out and see what kind of stuff you can get at an auction," said bidder Craig Hyndman, who walked away with a bike, police-grade boots and a few other new toys.

"Usually I look for tools, but then you usually walk away with one or two bikes," he continued with a laugh.
The goods, which were auctioned off by Northern Auction Sales on the Service's behalf, were sold as-is with no guarantee or warrant from the North Bay Police. But the prospective buyers weren't discouraged, frantically bidding on the recovered-goods without the opportunity of a test-drive or trial.

"This is different because it's the intrigue of not knowing what's in here," said dynamic auctioneer Ernie Schellenberg, who's been running the auction for around a decade he says. "The inventory in here is a lot different than your usual household."

After an hour of previewing the merchandise, Schellenberg stepped outside, took his place on his stool and with the delivery of a few quick, snappy jokes, grabbed the attention of the auction-goers. He then flicked the switch and turned on his fast-paced, frantic auctioneer patter and got down to business.

"The interaction and the humour is a big part of the sale and I find that people open up their wallet a lot quicker when they're happy," said Schellenberg. "There's certain times when you can see people that need certain things and you're happy if they can get it at a reasonable price."

While the exact amount of money that the auction brought in will not be known for another week or so, all proceeds from the auction go to the North Bay Police Service Board, which will then be put towards donations for local charities and events.

"There is never a plan, there is never an estimate, for the simple reason that it's all dictated by the crowd and the quality of the items," said Brogan. "We would be happy to walk away with anything."

Some purchasers, like Hyndman, said it was satisfying knowing their money was going to a good cause beyond the sale.

Now, with an empty garage and space to fill, auction-goers will have to wait in anticipation until next year's auction to see which items come trickling in.