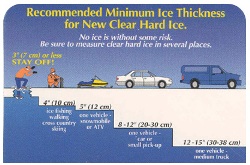 OPP News Release
*****
WEST PARRY SOUND –The West Parry Sound Detachment of the Ontario Provincial Police (OPP) would like to remind the public to assess and manage the risks of their recreational activities so that everyone can safely enjoy the outdoors.
The ice has started to melt which means the thickness of the ice can't be used to determine if the ice is safe. Ice can appear solid however the way the ice melts will dramatically weaken the surface even if it remains thick.
Ice that has formed over flowing water, springs, pressure cracks, old ice holes or around the mouths of rivers and streams can be weaker.
Ice can erode from the bottom up leaving you no obvious warning signs.
Stay off the ice, it is not safe!

Police would also like to remind outdoor enthusiasts that all snowmobile trails groomed by the Ontario Federation of Snowmobile Club (OFSC) are now closed for the season.
For more information please go to http://www.pssd.ca/ for more information.
*****