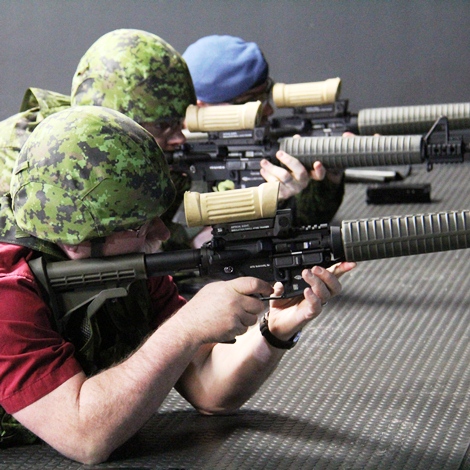 Members of the North Bay Media test out the cutting edge technology Small Arms Trainer (SAT) with 22 Wing Commander Colonel Sean Boyle Thursday.
Facing major cuts to their budget yet still having to live up to the mandate and protect Canada's sovereignty has led the folks at 22Wing/CFB North Bay to come up with inventive ways to deliver their day to day operations.
"Budgets are being reduced all around and we're having to find ways to make sure we can still deliver the operation because our mandate hasn't changed," states 22 Wing Commander Colonel Sean Boyle.
"We can never say we're done Afghanistan and now we can let them our guard, we have a mandate to the public the Canadian public maintain our proficiency at the level that has been demanded, so we need to find ways to do that more efficiently."
On Thursday the Wing Commander and his team rolled out one of their cost saving measures the cutting edge technology Small Arms Trainer (SAT).
Members are required to keep up their weapons certification and in the past to do that members had to travel to a range in Burwash which is about 150 kilometers away.
Other than the ability of running up and down the lanes, Boyle says the 22 Wing's eight-lane SAT BLUEFIRE technology that has replaced the previous tethered system is as close to a live firing range as you can get.
"Imagine the time involved in getting the people out there and the expense," he states.
"Now we move to a Blue Fire Bluetooth enabled wireless system that enables complete autonomous use of the weapons. The students can come in here and can actually do all of the inspections and safety drills that they would normally do out on the range and that is huge amount of time," Boyle explains.
"So for those of you that have experience with the military going out to the range involves hours and hours of going over and over drills because anytime you handle a weapon you need to be able to do it second nature it has to be automatic and have to do it under stressful conditions, so we practice it over and over and over -- why would you have to take a live weapon out to a live range when you can do that in a situation and environment like this so that's huge advantage."
Not only does the SAT allow for year round training with dozens of scenarios and according to Boyle's number crunching the savings are significant.
He says the cost to keep members certified at a live range over four years would be at least $1 million.
"The veracity and validity of the training that is achieved here that has allowed us to realize is savings in the order of $600,000 over six years."
"So we can do so much more training here saving us the cost of having to drive back to Burwash gives us the ability to use this range 12 months a year," he states.
"I think 22 Wing is making a great step in the right direction as far as optimizing use of simulation training and proficiency."