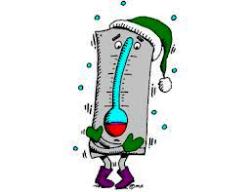 Environment Canada has ended the special advisory for the area.
*****
As of 5:28AM EST Friday, Environment Canada issued a special advisory for North Bay - Powassan - Mattawa and West Nipissing - French River
Extremely cold Arctic air across Northern Ontario this morning.
Northern Ontario continues to experience bitterly cold temperatures as a strong ridge of high pressure remains over Northern Ontario.
The extreme cold Arctic air has brought light winds and temperatures ranging from minus 30 to minus 40 degree Celsius this morning.
Relief from the cold is in sight later today as Alberta clipper moves in from the west resulting in a rebound of temperatures this afternoon and evening.
It is advised to stay indoors or cover any exposed skin as much as possible when heading outdoors.
The public is advised to monitor future forecasts and warnings as warnings may be required or extended.
Please monitor the latest forecasts and warnings from Environment Canada at www.weatheroffice.gc.ca.