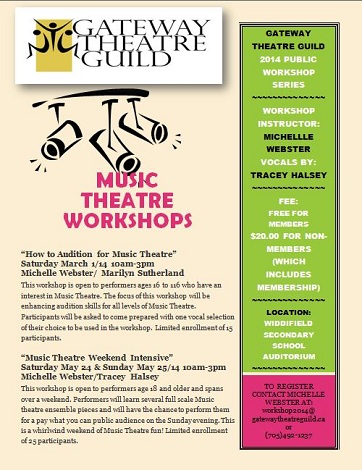 The Gateway Theatre Guild is more than just the plays put on for a public audience the guild is about learning, developing and growing actors and crew in other words it is about the whole experience.
Keeping in step with the mission the guild is currently offering two workshops focused on musical theatre: How to Audition for Music Theater and Music Theater Weekend Intensive.
Both workshops will take place at Widdifield Secondary School on Ski Club Road and are open to the public.
'How to Audition for Music Theater' Saturday, March 1, 2014.
The workshop is open to performers from ages 16 to 116 that have an interest in Musical Theater.
The focus of this workshop will be enhancing audition skills for all levels of Music Theater.
Participants will be asked to come prepared with one vocal selection of their choice to be used in the workshop.
Enrollment is limited to 15 participants.
Music Theater Weekend Intensive
Saturday, May 24 and Sunday, May 25th from 10 AM to 3 PM.
This workshop is open to performers aged 18 and older.
Performers will learn several full-scale music ensemble pieces and will have the chance to perform them for a 'pay what you can' public audience on Sunday evening.
This is a whirlwind weekend of music theater fun has a limited enrollment of 25 participants.
To register contact Michelle Webster at workshop2014@gatewaytheatreguild.ca or 705-492-1237
Workshops are free for GTG members and $20 for non-members.