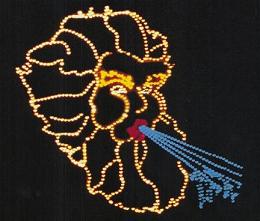 Environment Canada continued a Snowfall warning for North Bay - Powassan - Mattawa and West Nipissing - French River
Snowfall amounts averaging 15 cm tonight into Monday morning. Blowing snow overnight and Monday.
A low over Central Ohio is intensifying as it heads towards Southern Ontario. The snow has reached the Nickel Belt. The snow is expected to taper off Monday morning as the storm centre moves into Quebec.
Total snowfall amounts averaging near 15 centimetres are expected from this storm. Lesser amounts will be possible in the Western Sudbury region and near Espanola. However, amounts could reach 20 cm over the Eastern North Bay area.
Blowing snow is also expected due to blustery north to northwest winds behind the storm overnight and Monday. Furthermore, bitterly cold wind chills of minus 35 are expected Monday.
Motorists are advised to use caution if travelling across the region later today and tonight due to accumulating snow and reduced visibility in falling snow.