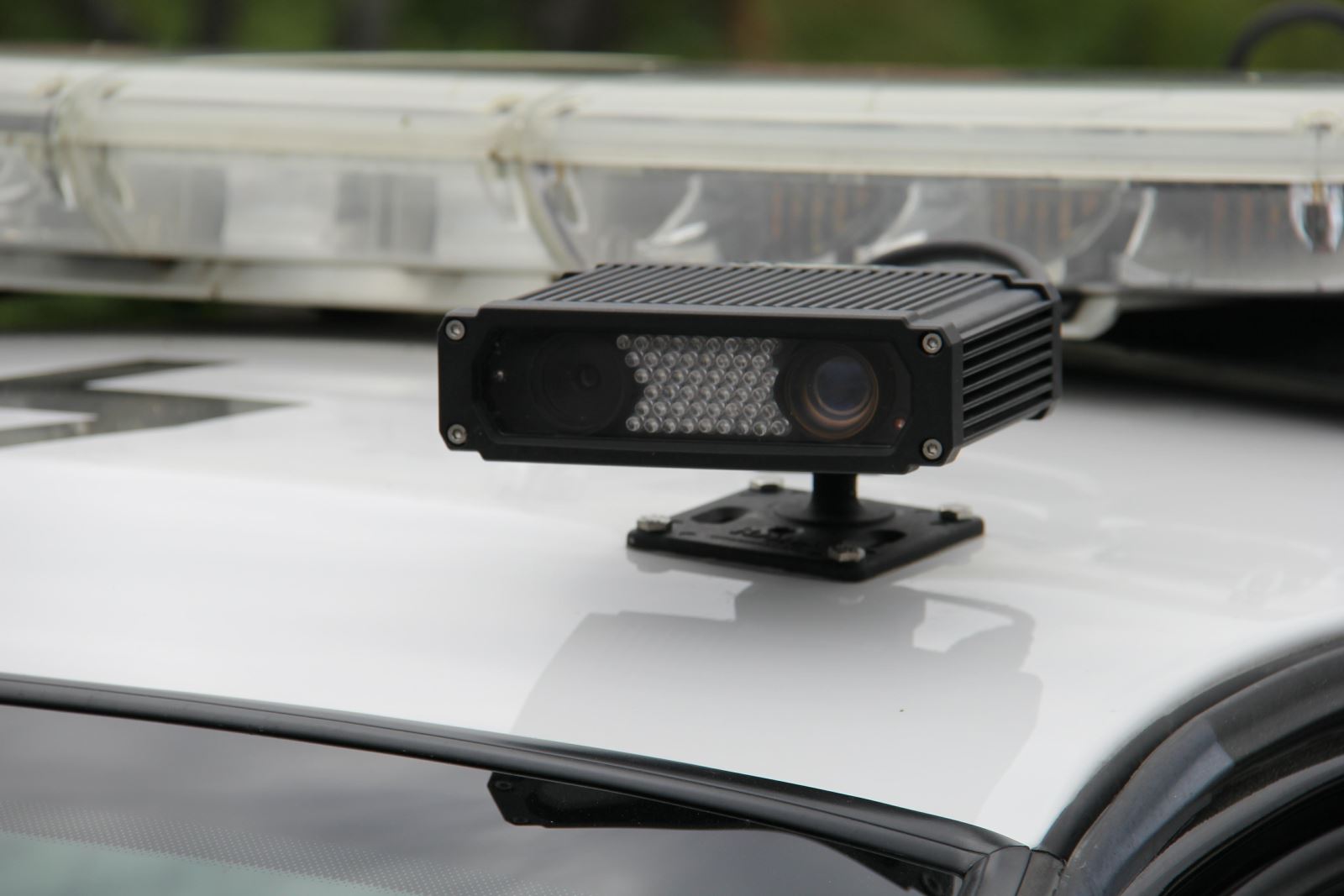 This roof top camera will allow police to scan 3,600 license plates an hour. It was demonstrated to the media Wednesday. Photo by Jeff Turl.
Cops have a new weapon for fighting crime, and it involves cameras on cars.
Now, the OPP is scanning license plates of passing cars to catch drivers with suspended licenses, expired plates, and even stolen vehicles.
So Constable Jeannine Grassie of the traffic unit expects to be busy.
Suspended drivers pose a threat to public safety because 2.3% of fatal motor vehicle collisions are caused by motorists who drive while under suspension.
It works this way.
Two roof-top cameras, front and back, scan the road with a range of about 3 metres.
It takes just half a second to scan a plate.
"When we get a hit," says Grassie, "we hear an alarm that will say medium or high priority depending on the severity of the offence."
If the driver has a suspended license for a criminal code violation, the car is immediately towed to an impound lot for a minimum of 45 days.
If it's a Highway Traffic Act offence, it gets towed to an impound lot for a week.
"We've managed to get at least one suspended driver every day we've been out. We got a stolen vehicle from Manitoba last week," explains Grassie.
There are 31 of these camera-equipped cruisers patrolling Ontario roads, and three are in the North.
The North Bay one will be going 24/7 covering an area from Mattawa, to Sturgeon Falls, to Powassan.
Plates can also be input manually to help with things like amber alerts.
Grassie says cops won't be trolling mall parking lots looking for action, but admits it will be useful for scanning motel lots.
"Say we are looking for a wanted person. It's another investigative tool."
And don't think darkness will save your bacon.
The camera uses an Infra-Red illuminator to catch images in sunlight's glare, to darkness and even adverse weather conditions.
Heavy Traffic? No problem. The system can scan 3,600 plates an hour.