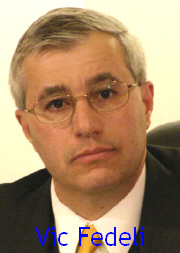 Nipissing MPP Vic Fedeli
News Release
*****
Nipissing businesses overwhelmingly say high taxes, high hydro costs and red tape are top concerns, MPP Vic Fedeli said today regarding the results of his latest Small Business Survey conducted in co-operation with the North Bay and District Chamber of Commerce.
A whopping 86 per cent of the more than 60 respondents to the survey said they would support legislation that would ensure affordable energy rates, reduce trade barriers, cut red tape, lower taxes and train more skilled trades, while 64 per cent said this type of legislation would help their company grow and/or hire more workers.
Other key findings in the survey include:
Four in five businesses say they will either stay the same size or have to downsize this year;
Three in four businesses say the increasing cost of hydro has impacted their business;
60 per cent say government red tape has increased over the past four years; and
85 per cent say a 10 cent-a-litre gasoline tax hike would impact their business
"These findings echo what we heard when we criss-crossed Ontario and visited 30 communities in our pre-budget consultations earlier this year," added Fedeli.
"What we need now is a team that will immediately implement a turnaround plan for this province."
*****