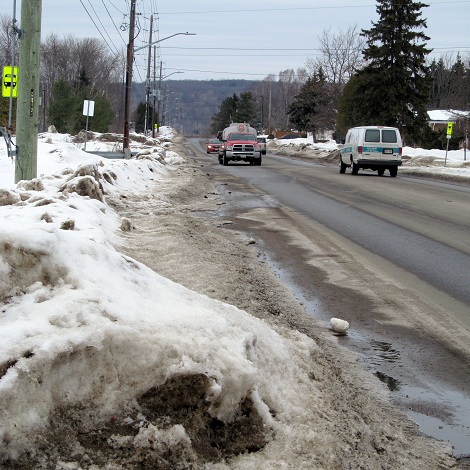 In response to the incident on Wallace Road Wednesday that saw Adam Gauvreau struck in the back of the head by a passing vehicle's side mirror,
Councillor Chris Mayne Chair of Public Works issued the following statement Friday.
"Engineering & Public Works is concerned whenever there is an accident in our community and while serious, we are glad to hear the young man is recovering and was not more seriously injured.
With the heavier than usual snowfall this winter many streets are narrower than other years and drivers should be even more careful than they might otherwise be.
To hit a pedestrian and drive away is a criminal matter, and if located by the police, the driver should be held to full account for what he has done.
Paved shoulders were widened along Wallace Road on the arena side where there is higher pedestrian traffic, but sidewalks are not being considered at this time."
Meanwhile we received and email from Gauvreau's mother Liz Rampersad noting that Gauvreau is on the mend and provided a new picture of his healing head.
"I found his hat on the snow bank today after I dropped him off and returned it to him. It was right beside the southern most entrance into the arena," she tells BayToday.
"If you were driving south on Wallace you would pass the entrance first. You can actually see in the snow where Adam hit the bank."
"I sent him home with a reflective vest for future early morning walks to work and a new (lighter colored) coat, as his former one had some rips, that weren't worth repairing, from the accident."