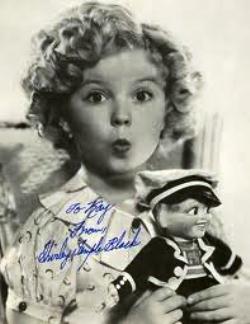 Shirley Temple Black, arguably the most popular and famous child star of all time, has died.
The blonde curly-hair, dimpled darling stated her career at 3-years old and sang and danced her way into the hearts of moviegoers by raising the public's morale during times of economic hardship in the Depression-era.
"As long as our country has Shirley Temple, we will be all right," stated President Franklin D. Roosevelt calling Temple "Little Miss Miracle".
Temple's song-and-dance number "On the Good Ship Lollipop" from Bright Eyes (1934) earned her a special Academy Award, for "Outstanding Personality of 1934.
Following a fruitful childhood career Temple could not repeat the same success as an adult and refocused her efforts to public service.
Temple became a diplomat.
Her service work would see her serve as U.S. ambassador to the United Nations from 1969 to '70, then in 1974 she was appointed ambassador to Ghana, then she became chief of protocol of the United States, then 1989 to '92 she was ambassador to Czechoslovakia.
Temple is also the only person in American history to be appointed the rank of honorary U.S. Foreign Service officer.
Temple Black successfully battled breast cancer in 1972.
Temple died of natural causes at her Woodside, California, home.
Her family and caregivers issued the following statement: "We salute her for a life of remarkable achievements as an actor, as a diplomat, and most importantly as our beloved mother, grandmother, great-grandmother, and adored wife of 55 years."
She was 85.
Funeral arrangements are pending.
A remembrance guest book will be set up online at shirleytemple.com.