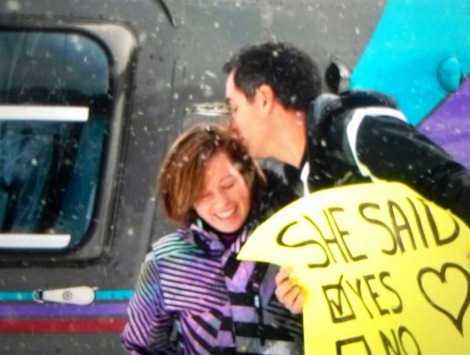 Photos and video provided.
"Where there is love there is life." - Mahatma Gandhi
Poor conditions on Angus Lake this past Saturday forced family and friends of Stephen Oake and Amanda Bossert into 'plan B' but the end result was the happy ending they envisioned all along.
'Plan A' had family and friends lying down on the lake, across from Gramps Place on Highway 11 about 40 minutes north of the Bay, and spell out "Will you marry me" as Oake and Bossert passed over by helicopter while he popped the big question.
Unfortunately because the ice was too slushy no one was getting on their backs, but not to worry through careful thought and ingenuity the group devised an alternative strategy.
They gathered old pieces of wood and spelled the question across the lake and stood in the form of a heart during the proposal.
From the photos and video there is no doubt that love was in the air as Bossert was shocked and surprised.
"It was very emotional," Oake tells BayToday.
BayToday would like to offer our congratulations and best wishes to the happy couple.