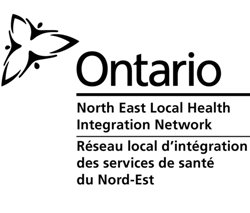 North East LHIN
News Release
*****
A new regional program introduced by the North East LHIN called PATH – Priority Assistance to Transition Home – is helping seniors return home from hospital with everything they need in place.
PATH care workers help discharged patients, mainly older adults, by escorting them home, as well as picking up medications and groceries on the way, putting a meal in the oven, tidying up, and linking seniors to services available in community.
A PATH care worker can stay with the senior until family arrives or other services are in place.
They can also return the next day for a visit to ensure everything is in place so the senior can recuperate and avoid unnecessary trips to the emergency department.
In Sudbury, PATH workers employed by the Canadian Red Cross celebrated their one year anniversary in February and their 500th "patient transition" home. Sudbury was the first community to introduce the program.
"For the Canadian Red Cross, the PATH Program has been a tremendously positive learning experience, both in development and implementation of the program, and the team effort between the Red Cross, Health Sciences North, partner agencies, and the LHIN," said Louise Trudel, District Branch Manager, Sudbury and North Bay Branches. "I am very proud of our first year and looking forward to the great successes to come across the North East."
PATH has since been expanded to Espanola, Parry Sound, North Bay and Sault Ste. Marie, which marked its 100th client transitioned safely home in January.
"We are frequently faced with the challenge of discharging patients home safely from the ER when family is unavailable. Since the launch of the PATH program, we can rest assured that many of our frail elderly patients will make it home safely and in a timely manner," said Heather Koskela, RN, Geriatric Emergency Management, at the Sault Area Hospital.
"Having the opportunity to have someone pick up prescriptions and groceries and help our seniors get settled in upon arrival home is a priceless service."
The Red Cross is in the process of setting up the PATH programs in Timmins and Espanola.
In Parry Sound, the program is delivered by The Friends.
The programs are all connected to each other to ensure safe transportation home.
The farthest a care worker has driven was from Sudbury to Kirkland Lake.
"Transitions of care are those spaces or "cracks in between" providers. The NE LHIN is focused on the patient and these transitions between hospital and home are becoming increasingly important as we work together as a system to support seniors in the community," said Louise Paquette, CEO, North East LHIN.
"Those first few hours following discharge can be a daunting time for seniors and programs like PATH help to make that easier, safer and more enjoyable."
Dr. Andy Caruso, the North East LHIN's Emergency Department Lead, noted that: "Initiatives like PATH which are truly patient-focused in their approach, and which help to improve patient flow through the health system, are welcome additions to care."
A recent email received by the NE LHIN from a senior who transitioned home, speaks to the peace of mind such care workers bring:
"The Red Cross PATHs provided me with the necessary support to help me get packed up in the hospital once my discharge was arranged. Providing transportation home and an assistant to help me get things in place when I arrived home, was very helpful to me. I would recommend this program to anyone needing assistance in their transition from the hospital to their home."
Facts:
Enhancing Care Coordination and Transitions to Improve the Patient Experience is one of four strategic priorities of the North East LHIN. This includes the patient journey within the entire health system – between individual health care providers, organizations, and sectors – and is particularly true for the frail elderly and/or individuals with complex medical conditions.
The NE LHIN has a higher proportion of people over the age of 65 compared to Ontario (19% versus 14.6%), and will have 100,000 more in that age group in the next 22 years.
In Sudbury at Health Sciences North where PATH was piloted last year, 42 clients were discharged home in spring 2013 through PATH in a 10-week trial. In about half of the cases where PATH was used by the discharge planning team, the patients were successfully diverted from being readmitted through the emergency department.
Patients may benefit from the following services: transportation home, assistance with attaining prescriptions, settling in at home (up to 2 hours), providing a meal or snack, light housekeeping, and referral to community support services.
*****