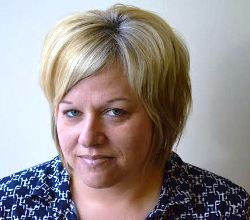 A Health Column provided by Jennifer Michaud with North East LHIN
*****
I've been spending a lot of time lately looking at my feet – and not in a nail polish and pedicure craving type of way.
Every time I get that tingly sensation in my toes – you know the one, like your foot's falling asleep – I fear the worst. I imagine that last night's sweet indulgence has caused permanent damage to my feet.
As a person with type-2 diabetes and also the Diabetes Officer with the North East LHIN, I know how vulnerable the feet are to changes that can lead to amputation, something my dad went through last fall.
I just can't imagine losing a foot. Not only do my feet get me where I need to go but they also reconnect me to my childhood passion of dance.
In fact, this spring for the first time since my teens, I competed on stage with an adult tap group.
So I bought a hand-held mirror.
This simple solution is one I learned while recently attending a foot care workshop for health professionals, hosted by Health Sciences North.
I was attending as part of my work with the region's diabetes providers, including 24 personal support worker (PSW) students from the James and Hudson Bay Coast that the North East LHIN had helped get there.
Did you know that eight out of 10 amputations could have been prevented?
The North East has a high rate of amputations due to diabetes and our rates for the disease itself are higher than the provincial average, at 10 per cent.
A hand-held mirror is key to keeping a daily track of colour changes, cuts, cracks, bruises, blisters, sores, infections or any that weren't there the day before.
Other tips and tricks:
· Buy shoes in the late afternoon since your feet slightly swell by then
· When you're buying shoes, pick the low heeled kind (under 5 cm)
· Trim your nails straight across
· After a daily washing and careful drying (especially between the toes), apply a skin lotion to your heels and soles, wiping off any excess
· Wear white socks – they help to show any signs of bleeding or infection
· And use those feet of yours to move you around and exercise! Yes exercise helps protect the feet too.
There are 125 health care providers more knowledgeable about proper foot assessments and care in our region following this workshop.
The NE LHIN is especially pleased to have supported attendance by residents of Peawanuck, Fort Albany, Moose Factory and Moosonee. That means that more people living with diabetes and at risk of complications are receiving the recommended education and care.
*****