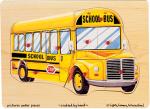 CUPE News Release
*****
Members of Local 1165-6 of the Canadian Union of Public Employees (CUPE), representing six workers who plan and ensure bus routing and school transportation services for the Near North District School Board, the Nipissing-Parry Sound Catholic District School Board, the Conseil scolaire de district du Nord-Est de l'Ontario, and the Conseil scolaire Franco-Nord, could be forced into a strike or lockout as early as January 6, 2014.
"We are committed to achieving a fair contract and one that will ensure the continuity and safety of school transportation in our area, without any service disruption," said Monique Drapeau, CUPE National Representative.
"Our members work hard to make sure children get to school safely and on time, and though we have been deemed not to be part of the broader group of direct school board workers and have our own collective agreement, management has failed to recognize that distinction and is now trying to cherry pick provisions from the school board workers' contract that would roll back many of our working conditions."
The transportation workers are employed by a school transportation consortium, Nipissing-Parry Sound Student Transportation Services, providing transportation services to all four area school boards.
Management negotiators have tried to cherry pick provisions to undercut the current working conditions by tabling parts of the memorandum of understanding that was settled for direct school board employees in December 2012.
"Under current management proposals, our members would face many concessions, without any improvements based on the school board workers' agreement – that's simply not acceptable," added Drapeau.
"This local was on strike for a month in 2005 and fought hard to protect their working conditions. Though sacrifices were made at the time, the employer is now seeking further cuts in this round of bargaining."
The members recently voted 100 per cent in favour of strike action if mediation talks tentatively scheduled for January 3rd fail to produce a settlement.
"If management does not back away from these concession demands, and if we are not able to achieve a fair settlement in negotiations, students and parents could face a transportation nightmare in the New Year, and that's the last thing we want," added Drapeau.
CUPE is encouraging parents and residents to contact their school board trustees to urge them to exert their influence to avert a strike or lockout.
*****