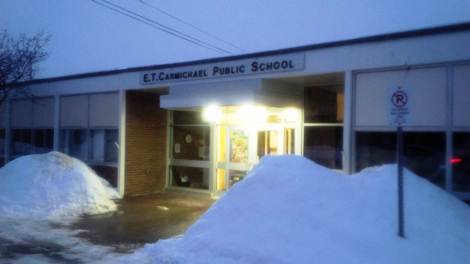 The Near North District School Board has quickly reacted to the news that the unknown man who entered ET Carmichael on March 5th is actually a parent.
"The safety of students and staff remains top priority as we look forward to welcoming students back to school on Monday," stated Principal Deborah Rivard in a voice mail and an email message on Friday to all the parents of children who attend ET Carmichael.
"Today police have confirmed that the issue has been resolved. It was a case of mistaken identity. The person in question has legal access to the school," the message stated to concerned parents.
Police Inspector Barry Ramsay sent the news to the media Friday afternoon indicating the person with the child at the school was actually a parent.
Near North District School Board Chair David Thompson was relieved to hear the issue has been resolved.
He hopes to turn this false alarm into a positive for the school board, staff, students and parents.
"It's a good wakeup call as we will be reviewing our policies and procedures," stated Thompson in a message.
Thompson noted that all principals have been sent an email to have them review their practices along with reinforcing the importance of security in area schools.