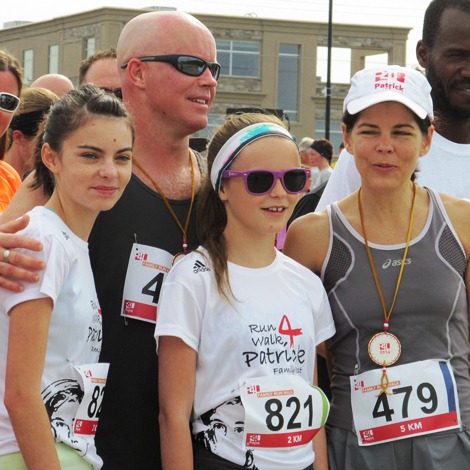 The Tanner family (Abbey, Steve, Madeline and Jenn) enjoy the spirit of the 9th annual RunWalk4Patrick Family Fest Sunday before the horn sounded for the 2km run. Story and Photo by Kate Adams.
With cooperation from the weather gods, the organizing team for the RunWalk4Patrick Family Fest marked another banner year Sunday.
The event is in honour of Patrick Fortin, a gutsy young man who put a face to AIDS in North Bay.
Contracting HIV at the age of seven through tainted blood products, Foritn decided not to be bitter with the situation; instead, in the adversity of a disease laced with stigma, he and his family opted to live a public life educating everyone about the disease.
Following his death the family continued on with Patrick's work by creating the Patrick4Life foundation and launching the run/walk event.
Foundation co-founder and Patrick's mother Christine Fortin was clearly overwhelmed by the over 700 people who turned out for the 9th annual run at the Discovery North Bay Museum Sunday morning.
"I want this community to know we have something very special here in North Bay," says Christine.
Basking in the glow of another successful year the Fortin clan can't help but looking forward to the 10th anniversary event. And they know after 10 years it is time move the message forward on a grander scale, and in order to do that they need more buy in from outside of the city boarders.
"When you have a recipe for success and how to talk to a generation of about viruses, preventable (viruses), and you figured out how to do it - then this needs to grow," she explains.
"And that would be my pain right now is that we're not quite making that happen, but were trying very hard."
"I think we need the attention of the ministers of health and education and we need the community agencies to continue on what our family has started."
Patrick's brother Richard Fortin echoes his mother's angst.
"I don't know how it's going to continue being viable," he tells BayToday.
"It has been quite a haul for us and I think it will be interesting to see how it goes moving forward."
"But no matter what, it's been a victory for us to channel what we learned with Patrick into a positive event for the community. And you know we're pretty proud of that."
Christine says Patrick would question how the family has had the courage and stamina to continue with his message of Zero AIDS.
"And now it needs to be taken on and continued somehow," she says.
"Patrick would be very proud. He had a real great way of looking at life."
The event wraps up with the 8th Annual Partici-Patrick 'Day of Champions' tomorrow (Monday).
The event will see 2,000 students in grades 3-8 from all four local school boards complete the final 2.2km stretch of their 40km marathon together at the Steve Omischl Sports Field Complex.
For the past 10-weeks the students have been using their daily physical activity time at school to work towards the 40km goal. And at the same time through in class discussions they have learned age-appropriate facts about HIV and AIDS.