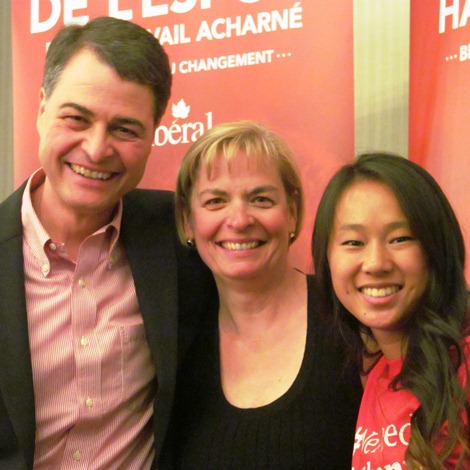 Anthony, Chantal and Sam Rota are all smiles after learning Anthony won the Nipsissing-Timiskaming Federal Liberal nomination Saturday. Photo by Kate Adams.

Anthony Rota will represent the Nipsissing-Timiskaming Liberals in the 2015 federal election.
Area Liberals packed into the Clarion Resort Pinewood Park to hear what the candidates had to say. Following the speeches an endless stream of eligible members lined the halls and cast their ballots.
After counting and confirming 850 ballots (4 spoiled) party officials emerged from the poll to announce Rota had surpassed his challenger Monique Lugli.
Both Lugli and Rota, who were both reacting to the outcome of the day's event, agree the real work starts now by bringing the two sides together to mount a solid campaign in 2015.
"Regardless of how you voted today we have a common bond we are all in this together," Rota tells the crowd.
"We are Liberals, citizens of Canada in the riding of Nipsissing-Timiskaming and I ask you today, right now, that you set your differences aside and yield to working together because you know that Liberals want what's best for Canada."
"I was really, really excited to represent Nipsissing-Timiskaming, obviously it's a big disappointment, but 850 votes cast today that's an incredible, incredible number. I think that the Liberal party is alive and well in this riding," Lugli told reporters following the announcement.
"You know we all set our sights to the next election, but I'd be lying if I didn't say I was disappointed absolutely."
The next federal general election is currently fixed as October 19, 2015.
Rota says the real work starts now and it is important to re-engage past supporters.
"In the last election we had a lot of liberal voters who were disgruntled, they were dissatisfied with the leader, some of them just felt like protesting and I had a number of people – a day didn't go by where that somebody didn't come by and say you know I voted for another party as a protest," he explains.
"That's fine in this electoral system -- it happens in an electoral system you can protest, but you get what you vote for not what you vote against and that's where the reminder goes. Now add to that something like Robo-calls which was out there deviating people from their proper poll you end up with a real disaster so to lose by only 18 votes actually wasn't too bad."
Lugli says she is tired from the months of work that went into getting to this point so thinking about future runs is a bit premature but she wouldn't mind another kick at the can.
"I talked about the process of having to buy a membership, having to show up to vote for the candidate – they (supporters) had no idea how the system worked, so for me I feel as though we've provided some really great education."
"We got a whole new life blood into the party and that's success that's what I wanted to do. And frankly I think that that's Justin's (Trudea) vision that we get a whole completely rebooted party."
"When you pour your heart and soul into one (campaign) it's hard to even think about gathering it up for another, but certainly I believe in the direction the party's going and certainly would like another shot at it."
Mayor Al McDonald, who was taking in a charity volleyball game Saturday night, told BayToday he was impressed with both candidates and commended them on a good clean campaign.
"Both camps ran very respectful campaigns," he states.
"They were able to pack the Clarion and they had people up north tonight, so what I took away from the campaign was everybody was respectful and trying to send out a positive image which I like versus the 'that person is in as good as that person'.
"But I think Anthony's record speaks for itself and if he is successful next election I'll be happy to work with him."