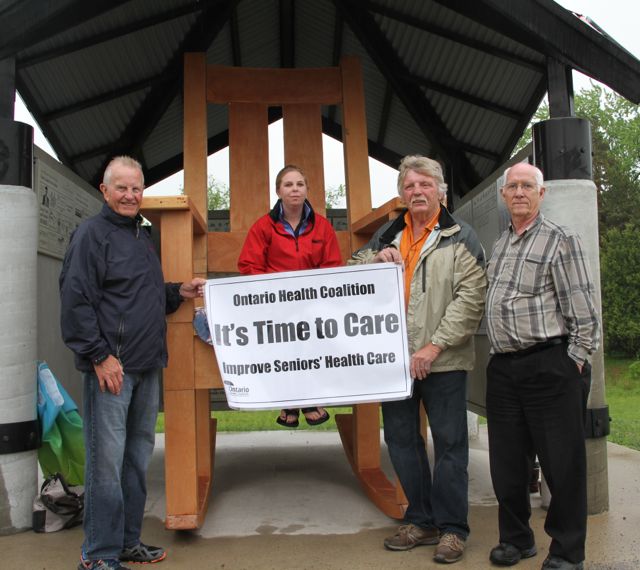 Ontario Health Care Coalition officials Peter Boyle (right) and Don Arkell (left) host a press event about the concern over levels of care at long term care homes. PHOTO BY CHRIS DAWSON.
The Ontario Health Coalition brought along a giant rocking chair to North Bay today as part of a province wide tour bringing awareness about the need for improvements at Ontario nursing homes.
Peter Boyle was one of the two Ontario Health Coalition officials who set the rocking chair up at Lee Park across from the Amelia ball field.
Boyle believes the chair is a symbol of care.
"I was rocked in one when I was a child and I'm retired now and I sit in one so it's a symbol of peace and fulfilment, love and kindness," said Boyle.
Boyle says that rocking chair represents the importance of care for seniors. He says the province hasn't regulated long term care since 1996, and that's a problem.
"We are proposing that Ontario adopt a mandatory minimum care staffing levels of four hours of daily care for each patient," he stated in a Ontario Health Coalition release.
Boyle says Ontario nursing home waiting times are an issue too.
The Ontario Health Coalition estimates more than 3,900 seniors in northeastern Ontario are waiting to get into a nursing home and overall 20,000 people across the province are waiting for long team care space.
"We need to talk to the government we need press your local MPP to make a plan. There isn't a plan, they need to make a plan for adequate care and for adequate spaces," said Boyle.
Boyle and his colleague Don Akell, handed out post cards which Ontario residents can mail out to support the coalition's message of change.
The chair was packed up Friday afternoon and the Giant Rocking Chair Tour will continue down highway 11 where the same message will be conveyed in Huntsville on Saturday.