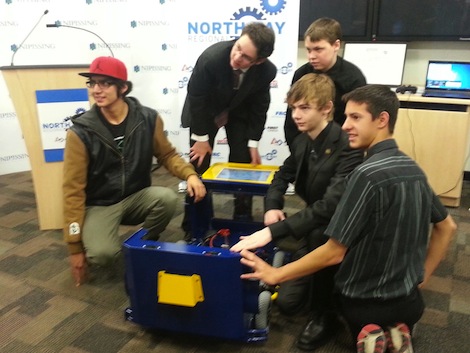 Members of both FIRST Team 1305 "Ice Cubed" and Team 5035 "Red Hawks" pose in front of a demo robot./MARK PARE PHOTO
The robots are coming.
Yes, the road to the FIRST Robotics Competition Championship will run through North Bay March 27-29, the first ever robotics competition to hit Northern Ontario.
34 teams will compete at the Robert J. Surtees Athletics Centre with six slots in St. Louis on the line.
"It is a very fierce competition," said Mackenzie Willis, a Grade 11 Widdifield student and member of Team 1305.
"We are competing but in the same time, you'll see a lot of students and teams working together. If someone needs parts, we'll give them parts. If someone needs members, we'll give them members."
Teams are given six weeks to build a custom robot from a kit of parts given by FIRST themselves. Along the way, students get to learn from engineering professionals and become comfortable with sophisticated hardware and software.
"We have these amazing students learning engineering, learning science and technology, learning to be the leaders of tomorrow and really, that's what I think this program is all about, the future," said Willis, "Inspiring students to be more than just students, to be leaders in their community."
Co-chair of the event Anthony Rota says "it really is a great opportunity for students to develop their skills, come together and put it into a practical application."
Over a thousand people are expected to land in North Bay that weekend. Rota, who shares the chair role with Mayor Al McDonald, says this is a great opportunity for the city, Nipissing and Canadore and that the community as a whole will benefit from it.
"We're really proud to have these young students or young men and women who will be coming up here to compete," he added, "It's going to be a great event."
Getting the honourary chair seat is Lynn Johnston of "For Better or For Worse." She told the crowd there is no such thing as "honourary" if you're going to be involved with something.
"You really get involved," she said, "And you learn what it's all about and you go to things and you enjoy every part of it."
"The reason I wanted to get involved earlier is because I love electrical, mechanical, creative stuff and I don't know how it works and I want to know how."
For students she says, it all begins in the classroom and in the heart.
"I am just starting to get to know everybody," she admitted, "I'm just starting to learn how many teachers and parents and students are doing this and so it's the beginning for me of something really important."
Teams from Kanata, Toronto, Sudbury, Timmins, Kingston, Burlington are among those that will join Team 1305 "Ice Cubed" as well as Team 5035 "Red Hawks" out of Nipissing First Nation and Nbisiing Secondary School.
Willis says he's made a lot of friends and allies and overall, it's just a giant community of people, "all working together towards one goal."
"One example in the Calgary regional last year, we had one team with only one member come to the regional," Willis recollected, "And all these teams came together and just donated their members and they built this guy, who had this amazing inspiration, they helped him get into the quarter-finals of his regional."
The event is one of eight regionals in Canada. 68,000 high school students worldwide will compete on 2,729 teams from 17 countries.