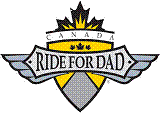 North Bay's Motorcycle Ride for Dad and North Bay Giant Tiger will kick off a local fundraising campaign tomorrow morning at 10:00.
The local campaign is spearheaded by Sean Wilson.
The store will sell pinup ICONS at each register helping raise much needed dollars and awareness to benefit the Nipissing Motorcycle Ride for Dad's annual campaign to fight Prostate Cancer.

A news release says a team of volunteers will be on hand along with their bikes and "Friendly" the Giant Tiger. There is also free face painting courtesy of Giant Tiger North Bay. You can also get up close and personal with some beautiful motorcycles.

"Prostate cancer is a needless killer for men," said Chopper Cameron, co-chair of the Nipissing chapter. "The more the community is aware and educated about prostate cancer, the less chance there is to lose the men in our lives to this terrible disease. The Motorcycle Ride for Dad not only raises funds to fight this disease, but it also gives men and their families a reason to talk about it".

The event will run until Noon, and will go rain or shine.
""Come out and get your ICON or make a donation of any amount towards our ride and have some fun at the same time," suggests Cameron. "We would like to thank Giant Tiger North Bay, Sean Wilson and his entire team for their hard work and for their generous donation."

Motorcycle riders, prostate cancer patients and their families, and non-riders can learn more about participating and donating by visiting www.motorcycleridefordad.org