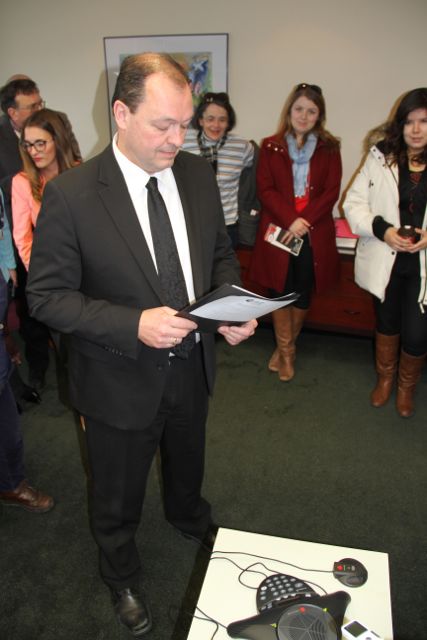 North Bay Mayor Al McDonald talks on the speaker phone to a 211 operator during a 211 media conference on Wednesday morning at City Hall. PHOTO BY CHRIS DAWSON.
Police and Emergency services in the North Bay and area receive numerous non-emergency calls daily.
But instead of calling 911 for non emergencies, North Bay area residents are being asked to dial 2-1-1 instead.
"You could call 211 for a variety of reasons, you could call if you are looking for senior support, you could call if you are a stressed out university student and if you are looking for a spot to drop off donations. 211 is really accessible for all individuals within the community regardless of what you are calling for," said United Way 211 Project Coordinator Ciara Deschamps.
Deschamps along with other United Way officials gathered at City Hall on Wednesday morning to promote the service which has been available for a while now. The 211 line has been available for Ontarian's to utilize since 2002 but in the Nipissing District Deschamps says the information was not very detailed until now. Her job has been to help gather more data which can be used to help area residents.
"Now that we have a local United Way here in North Bay since 2012 we've been able to be the on the ground contact and do the community outreach for 211 so we are able to promote it within the agencies that we fund and all of our networks as well. We have close ties with the service sector so we are able to push this service and we are able to say its here for you to utilize, please use it so you have that additional resource when you have exasperated all the resources that you have," said Deschamps, who adds the service can also be accessed through the 211 website.
North Bay Mayor Al McDonald supports the initiative. He even made a call to 211 during the press conference asking for help to find a local soup kitchen. The Information Referral Specialist gave him the information he needed.
"I was very impressed, it was very seamless and they had all the information that they needed to direct me to where I wanted to go so I think that any citizens, and usually if you look, 75 percent of the callers are women, usually low income, don't know where to go so the fact that they can just make an easy phone call and get that information can be a tremendous help to them," said McDonald.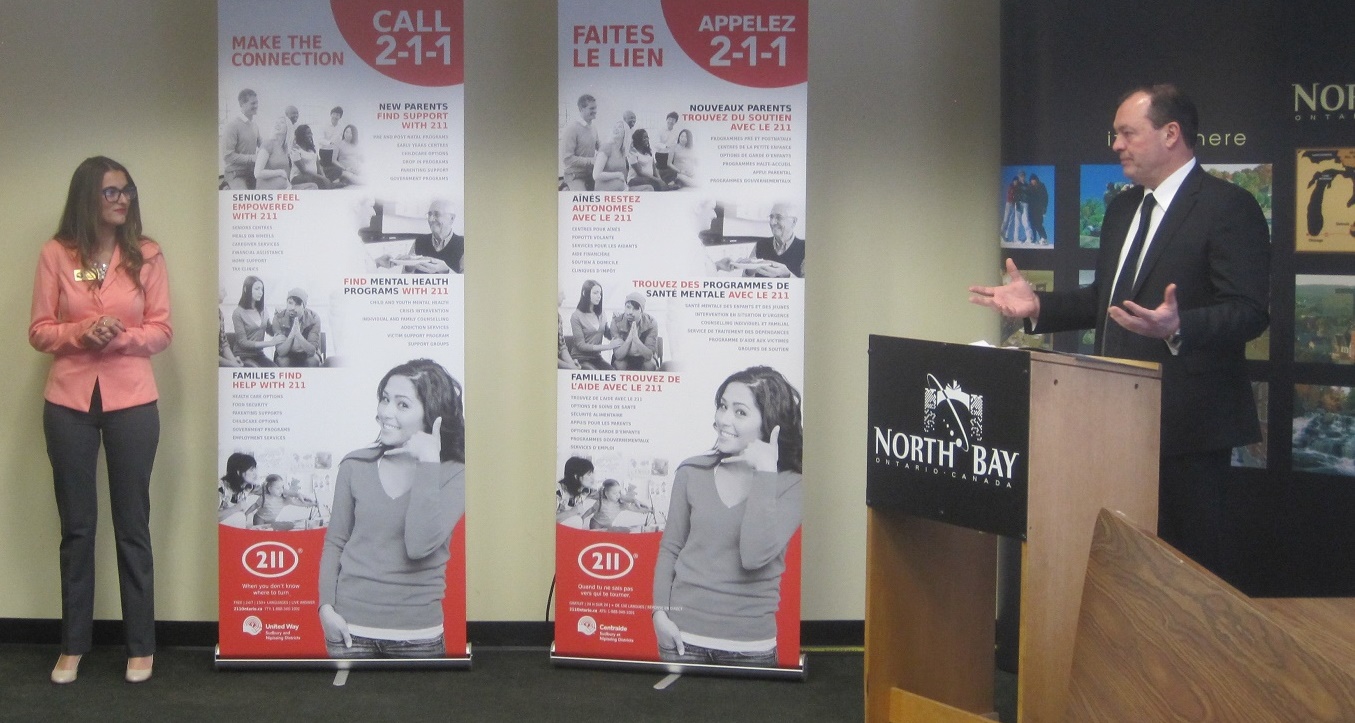 211 is funded by the province, and gets other assistance through municipalities, the United Way, the Green Shield of Canada Foundation and the Ontario Trillium Foundation.
Deschamps says the service is always there to help.
"It's 24 hours a day, 7 days a week and it's always live which is wonderful because I know a lot of us hate the automated system so you are always going to speak to a live person who is a highly trained information referral specialist so for non-emergency related calls 211 is the place to go."
Deschamps adds that they will be promoting the service a lot more throughout the region in hopes of getting more people utilizing the useful resource.