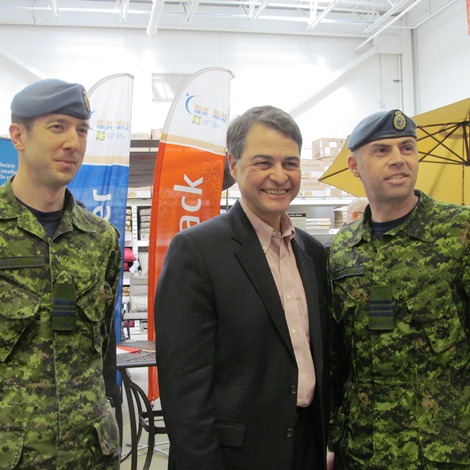 2014 Honorary Chair and cancer survivor Anthony Rota is helped by members of 22 Wing/CFB North Bay kick of Relay for Life. Photo by Kate Adams.
This week, the Canadian Society, North Bay branch, announced their plans for the 2014 Relay for Life during the official kick off Tuesday.
An enthusiastic crowd, consisting of local dignitaries, volunteers, military officials, and survivors, gathered at Home Depot for the launch.
The event, which will take place on June 20th and 21st, 2014 at the CFB military track, has an international theme this year, which has begun generating excitement within the community.
The new flavour of the event is designed to encourage teams to decorate their tents with individual country emblems, real or imagined, with participants wearing costumes, bringing international cuisine and other fun traditions into the event.
With 76 teams participating last year, the event raised over $246,000, with organizers hoping to push those numbers higher in order to bring more awareness and monies towards the plight of cancer in the community.
"It's just such a great event and we want to get as many people as we can to participate," says staff member Andrew Layne.
Layne says the media launch was earlier this year to give organizers the time needed to get participants, teams, donations and sponsors together for the event.
"This is really a springboard for the Relay for Life event," Layne says.
Relay for Life, centres on hope and remembrance for people who have survived cancer and those who have passed from the disease, picks an honorary survivor, who shares his or her story about battling and winning the fight with cancer.
This year, that special honour goes to Bekki Rahal, who was unable to attend the media launch but will no doubt be seen and heard by all at the Relay for Life event in June.
In addition to naming Rahal as an honorary survivor, a long-time volunteer and invaluable helper, John (ED) Pyke, formally of CFB North Bay, was honoured at the event as being a special contributor to the organization and development of the fundraiser over the years.
Sadly, Pyke passed away this year at the age of 58.
Pyke, who was a cancer survivor, proved to be an invaluable member of the event team giving his time and energy into overseeing set up and tear down of the Relay for Life event with military precision.
Pyke, who is affectionately known as 'ED' short for executive director, was first in uniform at CFB North Bay, acting as a construction engineer specialist and then returned to the Relay for Life event as a public servant and took on the official title of Logistics coordinator, since its inception 15 years ago, Pyke has always been the man behind much of everything that gets done, at least from a physical standpoint.
This video is from an interview of Pyke with BayToday's Kate Adams during Relay set up on Jun 21, 2012
A tireless worker and a devoted personality, Pyke's contribution will be undoubtedly be missed this year, and those at CFB has promised to ensure that his hard work is continued through their efforts.
Walter Norquay, Acting Wing Commander for CFB North Bay, was at the media launch to let the organization know that the tactical side of setting up the tents, stages, barricades and parking will be continued to be handled through their organization, although without ED's help this year.
"We lost him twice," says Norquay, "so as a Wing, we're really stepping up to fill in where ED left off and to also celebrate his life."
Each year, Relay for Life has a major focus on the survivors of cancer and the hope and strength that they give to the community as people who have faced this disease.
They also remember those who bravely fought the disease but lost their lives in battle.
A very positive thing that the event does is it rallies the community around those with cancer in order to support them through their difficult time so that they can focus on beating the disease and get better.
Julie Lefebvre, a team captain who is also Chair of Recruitment for Relay for Life, got involved in the event when her son became ill with Leukaemia and, after a very long battle, beat the disease, much to his mother's relief.
She pointed out that it's important for people not to feel hopeless against the disease of cancer when it strikes a family member or loved one, saying being proactive, even if its only making a phone call to someone going through or has gone through cancer, can be very helpful.
She was also there at the event to encourage people to come out, share their stories and offer support to one another while raising funds to battle this horrible disease.
Relay for Life Chair Anthony Rota says the event is important in not only raising funds and awareness, but highlights conquest of those who have beaten cancer and the immense will power of those who have to continue to keep fighting back while undergoing treatment for the disease in order to beat it, once and for all.
"We have to want to celebrate more people fighting back and beating this disease and part of that is taking part in the Relay for Life and raising funds for research to help medicine and treatment be more successful," Rota says.
The Relay for Life event is both sad and happy yet is still a wonderful night to bring people together to fight the disease and raise funds to research it.
The easiest way to sign up is to call (705) 472-9072 ext. 3733 or go to www.cancer.ca and click on the relay for life link (or go to www.relayforlife.ca) to get involved in the event.
People can also drop by the Canadian Cancer Society branch office, located at 147 McIntyre Street West, Unit 101, in North Bay to set up a team, pick up supplies and, with their help, get donations raised for the cause.
This year, who will you relay for?