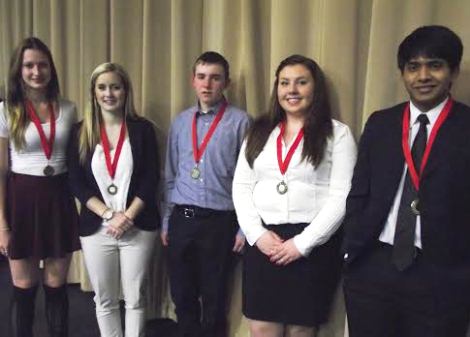 Pictured left to right: Emma Vanderlee, Morgan Lafontaine, Kyle Parsons, Tiara Ciesielski, and Sadriar Sawumma.
North Bay Regional Science Fair
News Release
*****
The 52ndAnnual North Bay Regional Science Fair (NBRSF) was a big success for the more than 150 participants who took part in this year's competition held at Nipissing University Sports Complex.
Over 50 awards including medals, trophies, plaques, certificates and/or cheques were presented for the scientific initiatives of these brilliant students.
The highlight of the Awards ceremony was the designation of those who will represent the region at this year's Canada-Wide Science Fair 2014 to be held in Windsor, Ontario May 10 to 17.
Three projects (five students) were selected for this exciting opportunity.
Congratulations go to:
Tiara Ciesielski and Sadriar Sawumma of Widdifield for their project "Project SP" which won the TransCanada Award, the Nipissing University Scholarship, the Greater Nipissing Stewardship Council Award (Intermediate or Senior), the Nipissing Naturalists Club Award, and a gold medal in the Senior Earth & Environment category.
Morgan Lafontaine and Emma Vanerlee of St. Joseph-Scollard Hall for there project "Urtica Dioica: Effect on Locomotor Function in a Drosophilia Model of Chronic Oxidative Stress" which won the Shulman Travel Award, the University of Ottawa Scholarship, and a gold medal in the Senior Life Sciences category;
Kyle Parsons of Ste. Marguerite D'Youville for his project "Calf's First Drink" which won the Rotary Club of North Bay Award of Excellence, and a gold medal in the Junior Life Sciences category.
The Fair was a very successful as Chair, Umar Waqas commented, "It is very exciting to see the level of enthusiasm, and quality of projects participating in the Science Fair. The NBRSF Committee wish all these brilliant students continued success with their scientific endeavours."
The NBRSF anticipate greater regional school participation at future fairs and the realization of the immense value this educational event provides our youth.
Anyone interested in participating on the committee, making a donation to the Regional Fair, or wanting more information please visit the website at www.nbrsf.com .
You can also find us on Facebook.
*****